The only thing more exciting than actually using these is the golden opportunity to write a crappy internet review about a product that, when properly used, is full of shit. I originally bought a 12-pack of these as "wag bags" were a required item for a river trip, and in that regard they command immediate respect.  Nothing says "Full Compliance" quite like a handful of Cleanwaste Waste bags, and when Rangers see them, they could care less about trivial items like PDF's, fire-pans or helmets.  You are good to go, in more ways than one.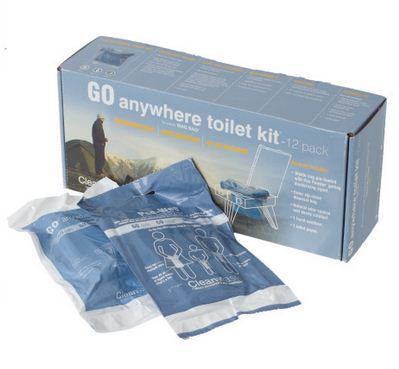 Without a doubt, the Cleanwaste Waste Bags are the Cadillac of poop bags. The centerpiece of the ensemble is a double/triple thick plastic bag which looks suspiciously like a trash compactor bag.  The accessories include a hermetically sealed portion of toilet paper and some kitty litter type of pellets to absorb icky liquids. It also includes a tidbit that I mistook for an after dinner mint, which after spitting it out I discovered was an small alcohol swab.  A mint and maybe some small reading material would be a nice addition.
My one main complaint about this item is that I failed to read the product description before buying it.  Had I done so, I would have seen that the Cleanwaste Waste Bag is supposed to be part of a kit and fits into a port-a-stool (not included) which provides a civilized seating experience. This would explain why the bags will hold roughly five gallons of poo, which seems a bit excessive even with catastrophic Nepalese diarrhea.  Butt, in contrast to my penny/loaf pinching friends who scrimped on poo-bags by stealing Doggy-doodoo bags from the neighborhood dog park, with the Cleanwaste Waste Bag, you can shit your brains out with confidence knowing that overflow will not be an issue.  For that matter, you could even share a single bag among friends (last one to use it carries it out).
Another nice feature is that these bags, and the 12-pack kit, comes with very detailed instructions and illustrations for use.  If you've ever done any Copy Writing or Graphic Design work and wondered "How much worse can this job get?" – this is it.  Study hard and stay in school!
As a crowning (hahaha) touch, if you buy these from Backcountry.com, they offer a 100% Guaranteed for Life Unconditional returns policy. While I've properly disposed of most of my used bags (toss in trash can according to the instruction sheet), I have one extremely full one which has developed an unacceptable small leak after fermenting in the backyard for three months. I plan on using this as a litmus test of the return policy, so Gearheads beware.
Sorry – no photos of the bag in action.
________________________________
Help support StraightChuter.com and complement your Cleanwaste Waste Bag with some Cleanwaste Mini 55-Use Poo Powder from Backcountry.com. Ick on the photo below…

Category: Mini Reviews