Just as I was thinking of putting The Chuting Gallery out as an eBook, I received a fantastic gift from Andrew Thompson that put the eBook concept into perspective.  Andrew is an artist, illustrator and bookbinder from  Brooklyn, NY who comes out to the Wasatch Mountains to go skiing.  We had emailed me in the past about getting galley proofs of The Chuting Gallery for a bookbinding project, but I didn't have any at the time, so I put the project on hold. Then, a few days ago, a package showed up from Andrew with an unbelievably beautiful, hand tooled leather book case, custom made with Chuting Gallery imagery and a Whippet graphic on the back.
The cover is a clamshell case with round spine which features a painting of a Wolverine Cirque style chute framed by the entrance to the Heart of Darkness and clear blue skies.  This is framed with Nigerian goatskin with goat skin overlays, alum (?) tanned sheepskin overlays and reverse quilted calf vellum overlays.  OMG!  The spine has the book title, and a lovely set of tracks  grace the exit of the cover couloir.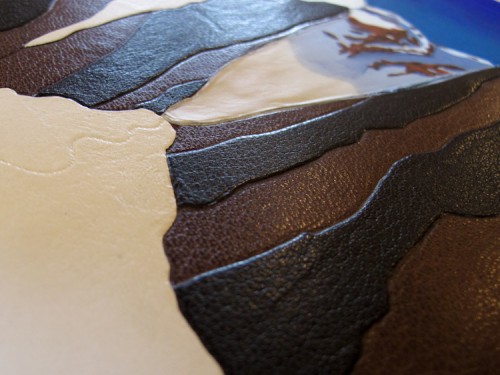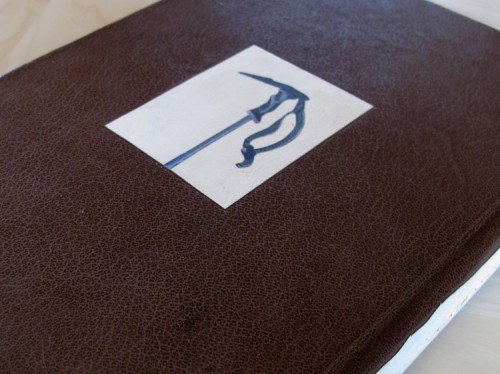 The interior is has been perfectly sized to fit a copy of The Chuting Gallery and is lined with topo map imagery from upper Little & Big Cottonwood Canyons.  The black fabric is Japanese silk and it has a leather pull tab to help extract the book.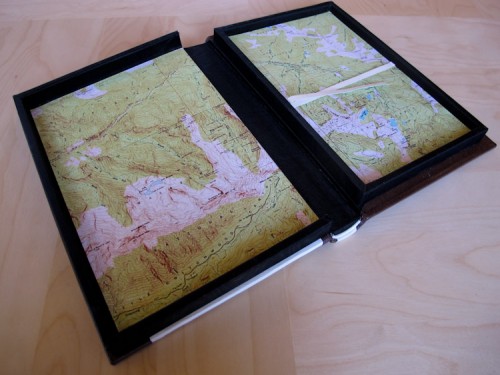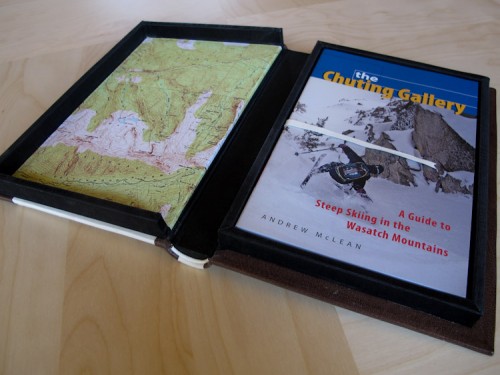 I wrote and self published The Chuting Gallery in 1998 and expected the local land fill would be my biggest customer. The book was originally intended to be a pamphlet printed on 8.5″ x 11″ copy  paper and then folded and stapled together with a card stock cover. However, I accidentally worked on it too long and when I went to print it, I discovered that I would have to have it "perfect" bound, which meant printing thousands instead of one hundred.  By then I had too much time and energy into it to drop it, so I wrote the check and a few weeks later picked up a pallet of Chuting Gallery's from amidst a warehouse full of the Book of Mormon.
The book has taken on a life of its own, which is due in large part to the rise in popularity of backcountry skiing during the same time span.  Most of the flak I've gotten over it comes from skiers who are upset that I gave away such "secrets" as the South Face of Superior or the Y-Couloir, although the only thing that is secret about those obvious roadside attractions is that they are not nearly as steep and nasty as they look.  Soon after printing it, a local avalanche forecaster told me I was going to "have the blood of dead 16 year-olds on my hands" from all of the adolescents who rushed out to ski these lines and died in avalanches.  So far this hasn't happened, mostly because there is a lot of sweat and effort involved in skiing most of these lines, which is inherently self limiting.
One of my favorite TCG experiences happened about halfway up the Y-couloir when I came across a guy who had been hiking it for about two hours at that point.  When we caught up to him, he was completely ecstatic about the size and aesthetics of The Y and was explaining all of the stats and virtues of it to us, all of which he had learned from his roommates copy of the Chuting Gallery.  It was obvious he was having some sort of backcountry revelation, and he hadn't even skied it yet.  Between encounters like this and unexpected gifts like Andrew Thompson's cover, it has been a fun journey.
Alas, almost none of the lines in The Chuting Gallery are skiable yet this season, but if you are interested in getting a copy anyway, they are available through Amazon.com under the "Buy it New or Used" tab for the book, or, there's a Chuting Gallery tab in the header at the top of this page.
Category: Wasatch Mountains