Last Tuesday, May 1, 2012, the Uinta-Wasatch-Cache National Forest re-issued a permit to the Cardiff Canyon Owners Association (CCOA) to allow motorized access to their private property. As part of this agreement, the private property owners have agreed to allow the public the same right-of-way through their land for backcountry travel. On the surface, this hopefully means much less conflict in this easily accessible region of high quality backcountry skiing.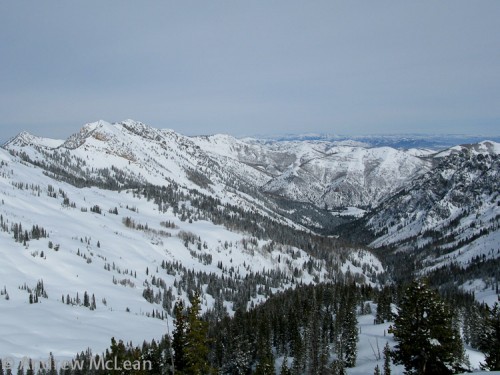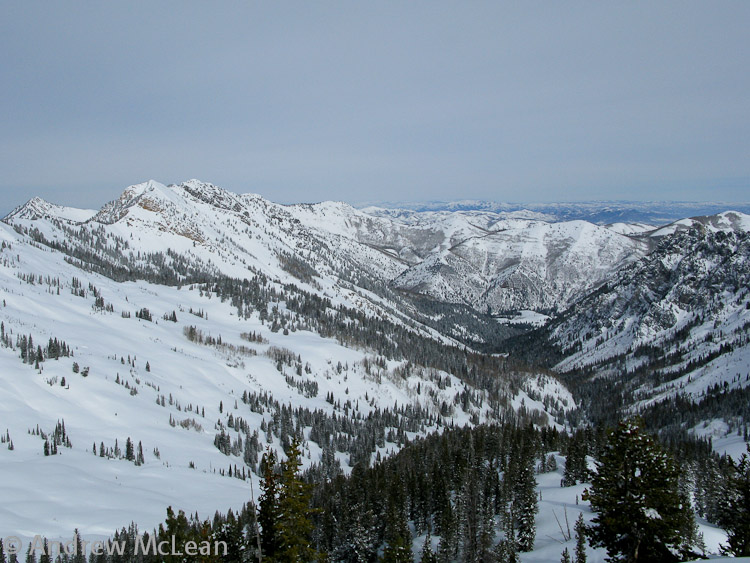 Cardiff Fork – it doesn't look like a war zone, but you never know what's hiding in those trees.
Having followed this for a few years, the key word to me is "re-issued." Because of the patchwork of land ownership in the Central Wasatch Mountains, it is common to cross Forest Service land, in which case a special permit is needed for motorized transportation.  These permits involve paying a fee and agreeing to a long list of conditions, (such as staying on the road) and can be revoked or denied if the conditions are not met. In the case of Cardiff Fork where there are 15-20 separate landowners, if one landowner jeopardizes the permit, then the entire group loses out on motorized access, which I suspect is what happened.
What is different this time around is that there are now two contacts for the CCOA – Wayne Crawford who is the President of the organization and Dave Robinson.  The Forest Service has also prepared a map showing the private in-holdings as well as the winter/summer, public/private access routes.

The Forest Service access map.
It is in everybody's best interest to be respectful of this new agreement and it will be interesting to see how it develops. From a backcountry skier's perspective, hopefully it will eliminate all of the rogue high-marking snowmobiles and enraged encounters.  That said, it is almost impossible to tell exactly where the property lines are back there, and I don't think anyone likes the idea of placing signs every ten feet to delineate it. I also wonder what qualifies as "motorized transportation?"  Bulldozers?  50 person Jeep Safaris? And once you get to your property, is it open season for hill climbs or high-marking?  Time will tell.
________________________________
Help support StraightChuter.com and keep a Cardiff Fork topo handy in a SealLine HP Map Case from Backcountry.com. Click on the photo below…

Category: Commentary, Wasatch Mountains