I walked out of Brewvies theater last night after watching  "Breaking Trail"  expecting snow on the ground and found dry, hot asphalt instead.  Arrrg – pace thyself.  As penance, I swore it was going to be a crappy season with no skiing until early January.
"Breaking Trail" is the latest offering from the Wasatch based PowderWhore production company and it is yet another good one from the Ho's. Aside from breaking trail, they are also breaking with tradition this year by expanding outside of the tele world to include AT and Splitboard skiers/riders.   The tele purists need not worry – the deepest pow and fullest faceshots still belong to the tele segments with skiers like Paul Kimbrough, Jake Saxton and Noah Howell drowning in it.  As always, Noah seems to reserve the deepest of the deep for himself and I can imagine him turning the camera duties over to his partners on the truly sick days.  "This looks dangerously deep, but I'm willing to ski it for the team.  Here – take the camera."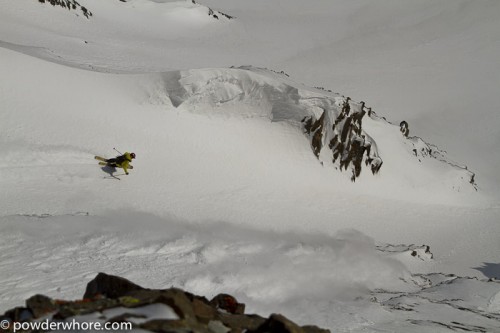 I like PowderWhore films for a number of reasons.  First, they feature a lot of Wasatch terrain, which is fun to pick out.  Second, the skiers/riders seem to be having fun and don't take themselves too seriously, which is a painful short-coming of far too many ski films nowadays. Third, they find interesting local characters to include in their films,  like Tom Kimbrough and Bret "Kowboy" Kobernick which helps create a storyline outside of the gnarlysickbrobrahuckyermeat genre.  And fourth, in a misery loves company kind of way, I fully appreciate how Noah & Jonah are cursed with a creative artistic urge and a love of the backcountry.  They just can't help themselves, which is good news for the viewing public.
Having been behind the scenes in a few PW shoots, it is fun to see how the Ho's have adapted their style and equipment to enable them to get footie from deep in the backcountry.  Whereas a full-blown, heavy metal film crew might never make it further than a quarter mile from the nearest helicopter or base lodge, the PW crew has adapted all sorts of equipment to enable them to be able to travel relatively fast and light to get to the most remote areas.  A lot of times this is lost on the viewers, but to backcountry aficionados, it is what makes the PW films unique and real.
Last night's sold out show was standing room only and the P-Ho Roadshow is about to get underway with a tour of roughly 837 cities.  Being on tour means the Brothers Howell will be missing out on tons of early season turns and there is nothing quite as sweet at scooping the Whores in their own backyard and sending them text messages about what they are missing.  However, they tend to make up for it later in the year.
The DVD is available here, or new this season, you can torture yourself by watching it on an iPhone as a digital download.
________________________________
Help support StraightChuter.com and nail the footie and photos with a Contour Contour+ Camera from Backcountry.com. Click on the photo below…
Category: Gear Reviews