Establishing rappel anchors on a ski descent is a labor of love and an art form.  On a first descent, you may have no idea what the route will require, so you bring along a selection of nuts, slings, cams & pitons and hope for the best.  Most skiing lines which require a rappel aren't worth repeating, but occasionally a few of them become classics and see a lot of traffic.  When this happens, the original half-assed anchors are often added to in an attempt to beef them up which eventually leads to the Ski Mountaineering version of a Super Fund site – a pile of unsafe garbage that nobody really wants to clean up.
Bolts are a contentious issue in rock climbing, but when it comes to ski mountaineering rap anchors, I'm in favor of them.  Nuts and pitons work well for a few years, but in an alpine environment where cracks expand and contract with freezing and  thawing, they have a tendency to loosen after a few years.  A case in point would be the original anchors on the NW Couloir of the Pfiefferhorn, which after ten years could be removed my hand.  Bolts can be placed in the optimum location, are incredibly strong, don't require any additional slings, and are less of an eyesore.  The downside of them is that they require a permanent drilled hole which scars the rock.
A drilled anchor has two components – the bolt and the hanger.  Within the hanger world, there are two main types, those for clipping carabiners into and those designed for rappel anchors.
An anchor set in good rock with a tight hole using a beefy rap hanger and a 2-3″ stainless steel expansion bolt  is good for thousands of pounds.  Placing a sling, rap ring or quick-link on it might seem like a good idea, but these add-ons are often substantially weaker than the bolt and serve no real purpose.
A common practice, of which I've been guilty of myself many times, is to bring a short or scrap piece of rope to rappel with, and if it is too short to double back, leave it tied-off to the rap anchor.  This seems like a good idea as the next party can theoretically use it, but in reality the dangling rope gets buried in the snow and becomes useless, or weakened from exposure.  Once a rope becomes augured in, the pressure it can exert on the anchor from the snowpack slowly creeping downwards is impressive.  If the rope is an old section of 10mm climbing rope, it can put hundreds, if not thousands of pounds of pressure on the anchor.  A good anchor can withstand this, but if the rope is useless and it is stressing the anchor point, it is better to not do it.  I've cut buried ropes off of anchors which were under so much tension that they almost exploded when the knife touched them.  In the case of a small tree or dubious anchor, a buried rope causes more damage any than potential good it might do.
Considering the aesthetic and safety consequences, burly rap anchors are an excellent addition for popular rapping descents.
________________________________
Help support StraightChuter.com and rap with confidence on a Sterling Fusion Nano Single Rope – 9.2mm from Backcountry.com. Click on the photo below…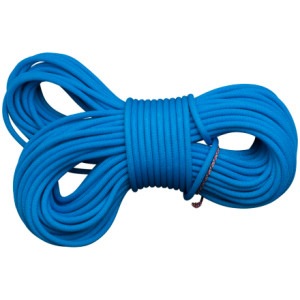 Category: 02 Gear