For 2014/15, Black Diamond Equipment has added three new carbon-infused skis to their line – the Carbon Aspect, Carbon Convert and Carbon Megawatt.  BD has had carbon offerings in the past, but this year the carbon skis are not only being built in their own factory, but also have special construction details which make them even lighter yet.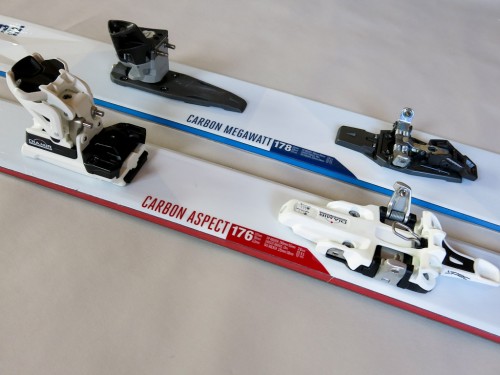 Blue and red carbony goodness from Black Diamond. I'm missing the Carbon Convert, which fits right into between these two sizes.  The Aspects on the are more of a traditional "Euro" ski and the Megawatts are All 'Merican muscle.
The carbon line-up offers variations on a proven theme – if you liked the existing Aspects, Converts or Megawatts, those are still available, but now you can also get them in even lighter versions.  I've been skiing on a pair of 176cm Carbon Aspects for most of this season and have recently been out on some 178cm Carbon Megawatts.  The funny thing about lightweight skis is how quickly you adjust to the new, lighter weight and how suddenly everything else seems so much heavier.  For reference, I was on a shorter, narrower ski last season (BD Currents) and the 2014/15 BD Carbon Aspects are not only 2cm longer and 2mm wider, but they also weigh less.  Carbon has a way of spoiling you and skewing the scale.

That said, I was not an immediate fan of carbon skis and like Superman and Kyptonite, they do have their weakness, which is namely icy, rough conditions.  To me, carbon seems to work well in situations with an even flex, like powder, corn, windboard or groomers, but once it starts twitching on blue ice, there is no getting it back. Conversely, skis with lots of dampening metal in them do a great job biting into the blue, but then again, they are heavy.  Pick your poison.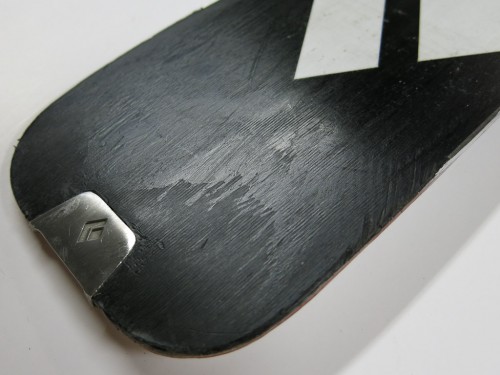 BD has shaved some grams by running 7/8th length metal edges, which takes some getting used to.  My first thought was "Hmmm, looks dicey." and then I forgot all about it and never had a second thought. Saves weight, works great.  No problem.
I've also been spending some time on a pair of 178cm Carbon Megawatts this season which have almost changed my mind about phat skis.  Almost. They are admittedly much lighter and now available in a shorter length, but you'll still get smoked on the uphills if your friends show up on trad skis as the entire fat ski package adds up – wider skis, bigger skins, more snow on the top sheets, requires bigger boots to drive them and they often require rebreaking a few inches of extra wide trail.  That said, they are damn fun on the downhill as long as you can open it up.  My new fat ski strategy is to make sure everyone is on their fatties beforehand – "8:00am at the trailhead, and we're going fat, right?"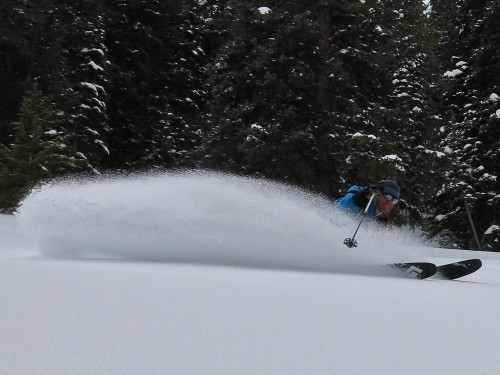 Powered up super dumb fun – throwing plumes of graupel on a 15 degree slope.  Try this at home.
I'm not much of a gram counter because the ultimate weight of a set-up depends on the entire skis/boots/skins/skis package, but I can attest that these puppies are about as light as possible in a durable ski.  I think a balanced set up is far more important and see things like Scarpa Aliens on 145mm skis and/or Marker Dukes on Goode skis all the time in the Wasatch. I've got a pair of the new Vipecs on the Carbon Aspects and have paired that with side of nylon skins for climbing power.  It's slightly heavier than need be, but skis well, has good release and climbs like a mofo.  On the Carbon Megawatts, I'm running brakeless ST Verticals and Nyhair skins.
________________________________
Help support StraightChuter.com and carbonize your quiver with a pair of Black Diamond Carbon Convert Skis ON SALE NOW from Backcountry.com. Click on the photo below…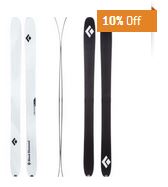 Category: Gear Reviews