Historically, those with authority, guns and money tend to get their way, so when the Utah Department of Transportation starts hinting about closing areas in the Wasatch for backcountry skiing, it is probably worth listening to them.  UDOT is responsible for keeping the Little Cottonwood Canyon road open and safe from avalanches, and one of their main tools is a 105mm howitzer which does not mix well with poor visibility and gaggles of Dawn Patrollers booting up the chutes they are trying to shoot.  The short term solution to this is to sign up for their canyon alerts (twitter @UDOTavy, the UAC website, or UDOT website), think about when and if you might be endangering others on the road below and in general stay clear of their operations.
The long term solution is much more complicated.  Shooting heavy artillery may have made sense in the Wasatch decades ago and still works well in remote areas, but with 1.5 million people surrounding their firing zone, it is just a matter of time before an accident happens. The ultimate crux of the problem is that the Little Cottonwood Road lies directly below 20+ major avalanche paths and is heavily traveled by hundreds, if not thousands of cars each day in the winter. The fact that there has only been one road related avalanche fatality there in 50 years is both a testament to UDOTs good work, but also a curse as it means from a government spending standpoint, it is considered a fairly safe roadway when compared to Highway 6, which has received tons of money for safety upgrades. Avalanche-proofing the road with a series of snowbridges and tunnels would not only eliminate the need for artillery, but would provide a safer, more reliable road.  And it would cost a ton of money.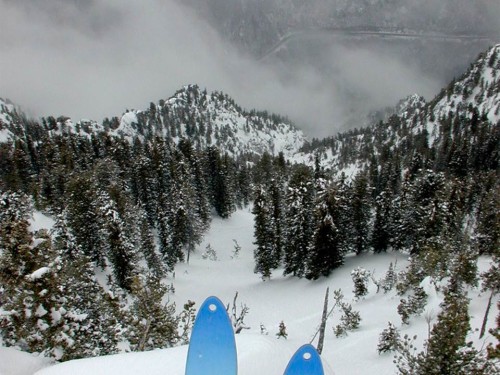 When chuting skiing is outlawed, only outlaws will ski chutes.  Which may not be too bad.  The Y Couloir back when it used to fill in with the LCC road below.
The Kids on the Bus
Among avalanche geeks, the worst case scenario for LCC is "What's going to happen when a bus load of kids gets taken out by a slide?"  Lately this has become "What is going to happen when a backcountry skier triggers a slide that takes out a bus load of kids?"   This would not be good, but there's also an endless number of potential avalanche triggers (goats, mountain lions, dropping cornices, one snowflake too many, etc..) that could produce the same result, which begs the question, why are we allowing a bus full of kids, or anyone, to drive up the canyon when there is any avalanche danger whatsoever?  To me, a more likely disaster scenario would be a traffic accident which blocked the two lane road and trapped traffic right in the strike zone while the slopes above either warmed up or loaded to the point they released on their own.  Being stuck in traffic for 2+ hours in LCC is not all that uncommon, especially during storm days.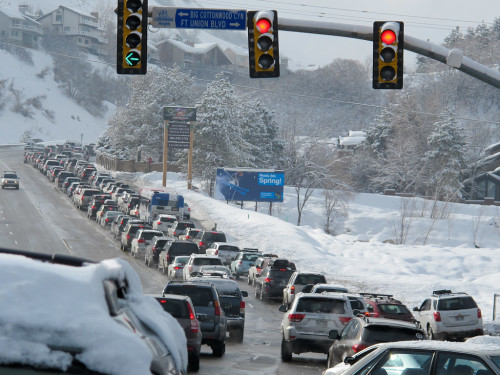 There's not much avalanche or artillery danger at the 7-11, but upper Little Cottonwood Canyon often looks like this as well.
Seeking Closure
Backcountry closures and banned areas might be a temporary fix, but it brings up a host of other questions and issues.  If skinning straight up the South Face of Superior during a warm trend is outlawed, this logic should also apply to any chute that threatens the road in almost any conditions and at any time of day. Why not ban the north facing Argenta path in Big Cottonwood at any time of persistent instability?  A ban on south facing LCC lines from midnight to 8:00am would allow for early morning artillery, but what about the 4:00pm rush hour traffic when the slopes above are getting warm and gooey?  Avalanche danger is not an exact science and closures would need to be issued far ahead of time, which could lead to a better safe (and closed) than sorry mentality.  Or, what if the danger goes up during the day – how are people going to be alerted and controlled during a storm or when they are hopping drainages?  And what about perimeter terrain around resorts that could slide in-bounds and hit customers – banned as well?  I understand the big issue and reasoning behind potential bans, but am also not thrilled with the idea of keeping the public off of public land in the name of public safety, especially when the closures would directly benefit other user groups. Maybe we could trade – the backcountry would be closed on odd days and the resorts would be closed on even.  (Calm down – that was a supposed to be a joke.)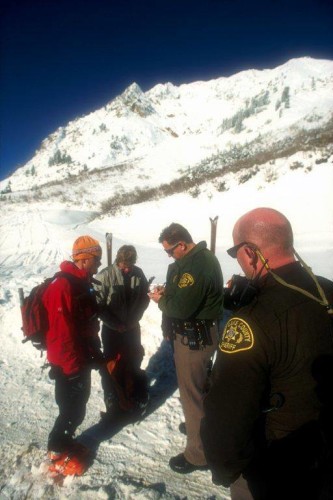 Busted, but not really as the area was open to the public, but if a ban were in effect, it might be a different story.  Photo by Carl Skoog.
________________________________
Help support StraightChuter.com and gain some direction with a Pieps Pieps DSP Pro Avalanche Beacon from Backcountry.com. Click on the photo below.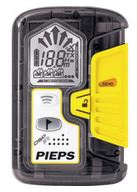 Category: Announcements, Avalanche