This Thursday, Feb 6th, I'm going to be giving a presentation up at Snowbird on kite assisted skiing in Baffin Island and Patagonia. The show starts at 6:00 and a $5 donation gets you raffle tickets for great prizes and helps support the Utah Avalanche Forecast Center.  It takes place in the Wildflower Lounge (21 and older as this is Utah) in the Iron Blossom Lodge.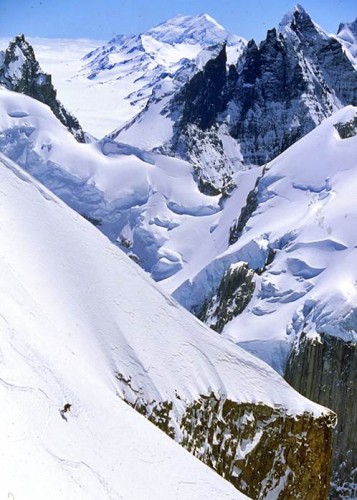 Skiing in the shadow of Cerro Torre with the Southern Patagonia Ice Cap in the background.  Photo by Ben Ditto.
While both of these trips are fairly old (2002 and 2005), they remain a couple of my favorites as the kiting added such a cool element to the adventure and we ended up doing lots of great skiing.  On the Baffin trip Brad Barlage and I had no idea what to expect, and in the end we skied 19 of the most perfect couloirs I've ever experienced.  On the Patagonia trip, we didn't really have a plan on where to go, but stumbled into a gold mine of steep, wild faces and extraordinary places.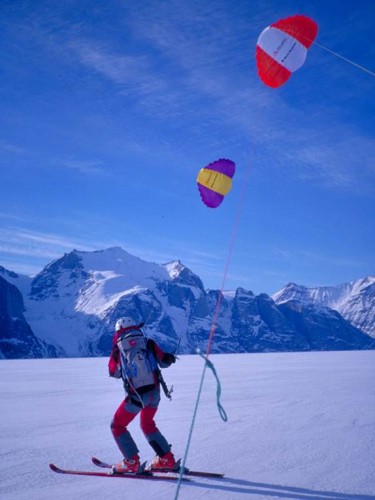 Crossing the Sam Ford Fjord in Baffin Island.
On both of these trips I used homemade NASA wing kites, which was a project in itself to figure out how to sew, where to get the fabric and how to control them. NASA wings have never gained that much popularity in the kiting world as they don't go upwind very well and are difficult to control, but for expedition kiting, their weight/size ratio compared to the amount of pull they generate is unmatched.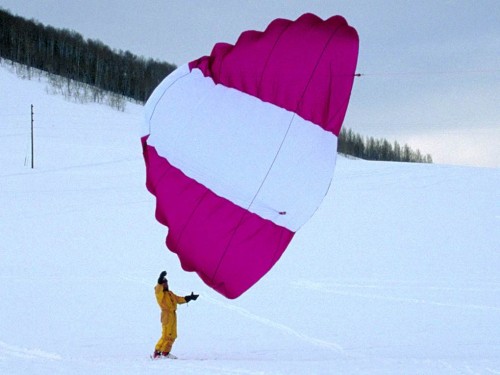 Floating a 30m NASA wing during a kiting trial in Utah.
This show is part of the Utah Adventure Journal series, which has become so popular that they have had to reconfigure the seating – if you want a table as in years past, arrive early.
________________________________
Help support StraightChuter.com and stay powered up with a Goal Zero Guide 10 Plus Recharging Kit from Backcountry.com. Click on the photo below…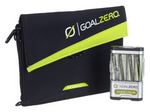 Category: Announcements