I've never gotten bored with skiing as it seems like some new twist on the theme always shows up and keeps my interest alive (that plus it is just fun).  But, I don't think I ever would have anticipated our trip to Iceberg Lake in the Wrangell-St.Elias Mountains to turn out quite the way it did.
We were out for a Claus "family day" of skiing, which involves loading ten or so people into a million-dollar bush plane and flying around until we found the tastiest looking place to ski, then setting down and doing a few laps.  In this case, we ended up at Iceberg Lake, the name of which later became apparent.
All photos by Ruedi Homberger
As we were munching away there seemed to be some sort of covert activity going on in the background and I was halfway expecting a snowball attack (Logan Claus was in the house…).  Instead, Paul Claus asked for everyone's attention and announced that Eli had just proposed to Aria, she had accepted, and as he was granted the authority to perform one marriage a day in Alaska, we were going to have a wedding.  Right now.  Everyone step behind the plane.
The happy couple consummated their wedding by taking a victory lap on Iceberg Lake while the rest of us took another run.  It was a fantastic location and I was/am honored to have been part of the occasion with such a great group of people.  Best wishes to Aria & Eli!
________________________________
Help support StraightChuter.com and toast the occassion with a a GSI Outdoors Beer Pilsner Glass from Backcountry.com. Click on the photo below…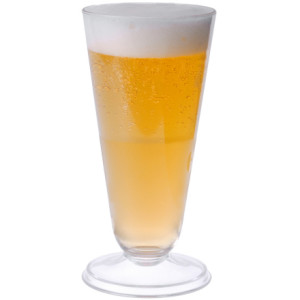 Category: Announcements