Although I suspect my invitation to the annual Backcountry Magazine ski test extravaganza was a clerical error, I took them up on it anyway as it was a good excuse to drink Adam "Howie" Howard's beer and ski at Powder Mountain.  I've been involved with many ski tests over the years, but lately have been developing an inferiority complex about them as I tend to like skis that everyone else hates.  It's kind of like being picked last for High School basketball, which I also eventually got over.
This year was no different. We missed the first two days, which were epic powder snorkle fests and, predictably, the phatties ruled the roost.  As we were unloading a portion of the 200+ pairs of skis that were available, I was first amazed at how big, phat and heavy they all were, then dismayed to hear that these were actually the skinny schwagg that needed to be tested and the true fatties were under lock & key as they were all anyone wanted to ski on, but had been already thoroughly tested.  (After taskmaster Drew Pogge left on the third day, the fatties leaked back out.)
Of all the ski tests I've been to, this one was by far and away the most fun as they allowed plenty of time for it (4-5 days), invited a cross-section of 40 plus people and held it at a resort which was very testing friendly with easy access and good terrain.  The knee-deep dump of Utah pow didn't hurt either.
I made a point of skiing the phattest fatties I could get my boots into as well as reverse camber, elongated noses, pin tails, no sidecut, ultra long (195cm), boutique skis and mainstay manufacturers.  I stayed away from skis and brands I was familiar with as I ski those all the time. I thought I was doing pretty well to get 4-6 pairs in per day until I met Jamie, who was on her seventh pair by lunch-time and had racked up over 31 pairs in the last few days.  I don't know what she ultimately liked best, but was impressed with her and many other people's diligence.  Between this sort of enthusiasm and the volume of people, the published results should be very comprehensive.
________________________________
Help support StraightChuter.com and get some crowd pleasing Black Diamond Megawatt Skis on sale now at Backcountry.com. Click on the photo below…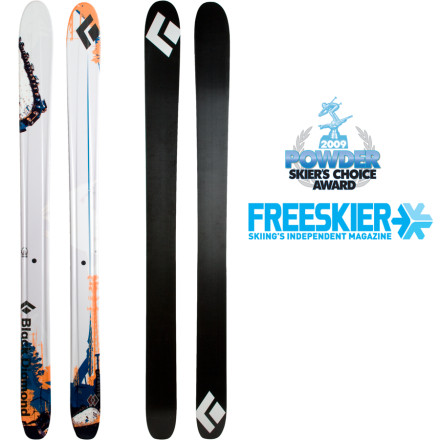 Category: Events