According to the Wasatch Powderbird Guides (WPG), many backcountry skiers appreciate their efforts at keeping the Wasatch backcountry safe by bombing it and enjoy the "sizzle" that a heliskiing operation brings to a mountain range.  I'm not one of them.  On Tuesday, WPG said they were going to be skiing in Mineral, Cardiff, Days, Silver, White Pine, Millcreek, Box, American Fork and Cascade – pretty much all of the central and southern Wasatch except the Alta parking lot.  To nobody's surprise, WPG decided to concentrate their efforts on Cardiff, which is a 60 second flight from their helipad and about 40 minutes skinning.  We were one of four parties touring in the drainage and were treated to a thundering A-Star Symphony in B Flat Major for a solid three hours.
The WPG 2010/11 Operating Plan states "WPG will practice good backcountry ethics, including: (a) allowing ski mountaineers who arrive at a particular location before WPG an opportunity to ski first, and (b) avoiding, when practical, flying through passes and along ridges occupied by other backcountry users."  At least that is what they tell the Forest Service.  The photo below shows the reality.  We are standing on a ridgeline, in plain view, especially from above and not only does WPG land on top of the nearby peak, but then WPG guide Ryan Carlson brings his entire group straight over to us and proceeds to ski the slope we had just skinned up.
Two minutes later, Mike "Ole" Olson lands on the same peak and does the exact same thing.
It's hard to blame the clients too much as they usually have no idea what is going on.  We asked one of them who his guide was and he said "I don't know the guys name."  Another client admitted "Yeah, this area is way too small for heliskiing. Sorry."
The Forest Service allows WPG to "trim brush and small trees to facilitate flight safety" which WPG interprets as cutting branches off of live nearby trees to use as staffs for their survey tape markers. It's a mystery why they can't use tomato stakes, scraps of lumber or something else.  I guess it is just more fun, authentic and manly to cut up trees.
________________________________
Help support StraightChuter.com and stick to your convictions with Black Diamond Gold Label Adhesive from Backcountry.com. Click on the photo below…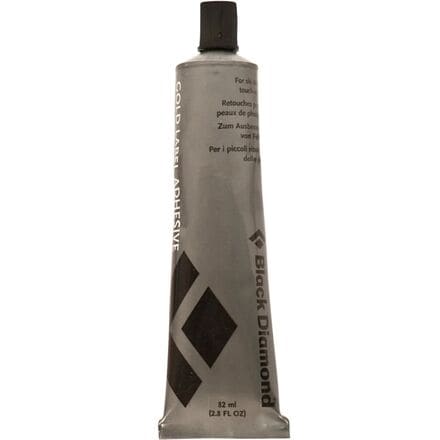 Category: Commentary