One of the cruelest avalanche tricks out there is the old "I was just minding my own business skinning up a nice valley when suddenly both sides collapsed thousands of feet above me and I was buried 20′ deep."  It is a mean spirited trick as the skier may be on flat ground far away from the starting zone, and to add insult to injury, it is often fatal.  This particular type of avalanche is different from the "wrong place, wrong time" slide where a skier happens to be below a slope when it decides to cut loose, because in this case, the skier is actually triggering the slide remotely from hundreds/thousands of feet away.
From studying Architecture, this phenomena reminds of an architectural arch, where all of the compression forces are balanced and held in place by a keystone at the top.  Exhibit A below: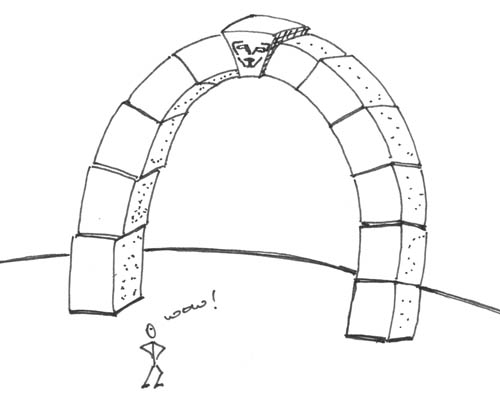 A collapsing valley is basically the same thing, except the arch it turned upside down, and instead of carved stones, you have a cohesive slab of snow.  When an unsuspecting skier walks along the base of the valley, he is essentially knocking out the keystone that holds the valley walls up, as illustrated below: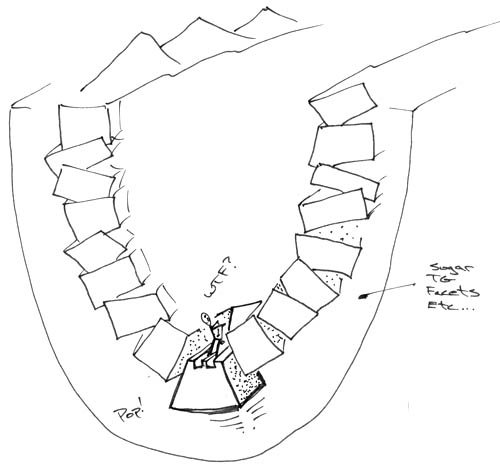 This type of avalanche is very difficult to accurately predict, but not that hard to avoid.  If the snowpack has pronounced collapsing (like the Wasatch has had this season), it means that keystone is being punched out and it would be better to stick to the high ground.  The chances of getting caught in a slide like this are about a million to one (unless you live in Colorado, where it is more like 50/50) and the best defense is to be forewarned.
________________________________
Help support StraightChuter.com and pinpoint a deep burial quickly with a Pieps iPROBE Probe from Backcountry.com. Click on the photo below…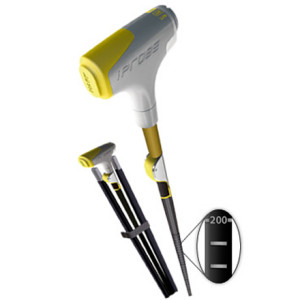 Category: 07 Avalanche Avoidance