In conjunction with Ice Axe Expeditions, I've put together an annotated gear list for skiing in Antarctica,although most of the items listed here are what I use or recommend for general backcountry skiing as well.
ANTARCTICA ADVENTURE & SKI CRUISE – 2016 Gear List
This is an extensive list that will allow for a participant to access the most extreme of terrain. Please contact Ice Axe with any questions. We do not provide gear rentals and suggest you contact your local gear shop should you need to rent any equipment.
ALPINE TOURING (AT) BOOTS, SKIS & BINDINGS
AT Boots – all purpose, long tours
AT Skis – approximately 90-105mm under foot is recommended.
AT Tech Bindings (works only on boots with Tech fittings, i.e. Dynafit. Recommended.)
AT Frame Bindings (works with all AT or Alpine boots)
 TELEMARK (Tele) BOOTS, SKIS & BINDINGS  (Alternative to Alpine Touring)
CLIMBING SKINS (AT or Tele) – Pre-cut or cut-to-fit.  A tip/tail attachment is helpful for the cold temperatures.
POLES
SPLITBOARD SET-UP
Ski brakes or leashes recommended for glacier travel.
Hard shell boots are preferred for use with boot crampons or hiking on firm snow.
Ski poles – adjustable length (optional).
Climbing skins (snowshoes and/or booting is discouraged for long tours).
Releasable bindings may increase your chances of surviving an avalanche. If you choose to use non-releasable telemark or snowboard bindings, you must accept the additional risk.
SKI MOUNTAINEERING GEAR
Boot crampons – 10-point light alloy
Ski crampons – must fit width of ski/board.
Ice Axe – 50cm+, light alloy shaft and steel pick are recommended.
Ice Axe Tip & Spike Protector (important for Zodiac loading)
Light Ski Mountaineering Harness
Screw-gate Locking Carabiners – 3x  (pear-shaped is preferred).
Standard Carabiners – 2x (non locking)
Ski Pack (25 to 35 liter with a strap system to carry skis. Airbag packs are optional.)
 AVALANCHE SAFETY GEAR
Avalanche Transceiver  (457kHz with fresh batteries, plus spare set.)
Probe
Shovel
CLOTHING
This is a recommended optimum layering system. Certain items may be substituted but a combination of layers should equal the recommended list for warmth, moisture wicking, wind and precipitation resistance, weight and packability.
Next to skin layers:
Outer layers:
MISCELLANEOUS
OPTIONAL
Slings & Cord*
*This may be required for groups who desire more technical terrain. Your guide will be in touch with you before the trip to determine if you need to bring this additional gear.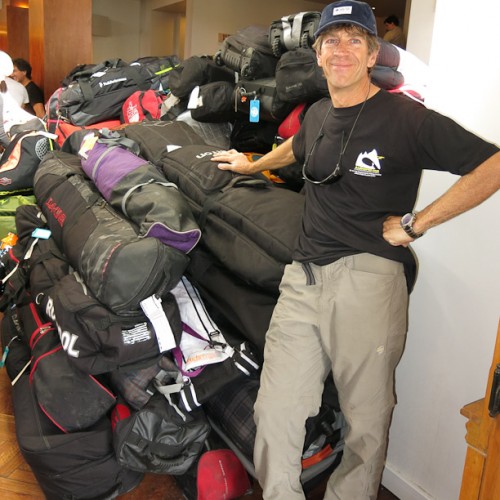 Standing in front of a mountain of gear in Ushuaia.
Category: Antarctica, Gear Reviews