The annual Ice Axe Expeditions Antarctic Ski Cruise is the fountain of youth, if for no other reasons than it makes you feel young, alive and promotes immaturity.  This was the 7th time Ice Axe has put on the "Trip of a Lifetime" and it just keeps better better and more polished every year.  This season was marked by a mildly bumpy trip across the Drake Passage on the way over (Force 4-5), near perfect weather, good skiing and then a silky glide back across the Drake Passage that didn't even register on the Beaufort storm rating scale.  I always hope for a hurricane on the Drake crossings, so this was my one and only disappointment with the trip – other than that, even after being there nine times, I think it is the ultimate place on earth to go skiing.
The trip takes place at the end of October or beginning of November, which is the beginning of springtime in Antarctica.  After arriving in Ushuaia (the southern most town in Argentina), we get in a day of skiing on the Martial Glacier, a cocktail party and a welcome dinner before boarding the 300′ Ocean Adventurer  and making our way down the Beagle Channel.  The next two days are spent crossing the famous Drake Passage before getting into the sheltered islands around the Antarctic peninsula.  From here, inflatable Zodiac boats are used to shuttle us to and from skiing objectives and then we return to the ship for lunch or dinner, repreposition to a new area in the evenings and then do it all over again the next day.  And the next, and the next and the next…
Although Antarctica is often associated with ripping cold weather, being on the peninsula is actually quite mild and similar to a day of resort skiing.  The temperature range is about 20 – 45 degrees Fahrenheit with the biggest wild card being wind.  We've had an excellent track record of getting skiing in all conditions, and I think in my 60+ days of skiing on the Antarctic continent, I've only missed 2-3 due to weather.  For the Ski Cruise, the main safety factor is getting the solo Zodiac driver back to the ship after dropping off a load of passengers, but in that regard, the ship will often reposition to a safer anchorage if this looks like it is going to be an issue.
One of the things that I really love about this trip is that I go down there for the skiing, but in the end, the skiing is just one small part of a much bigger, mind-blowing experience.  Until you've experienced it, it is hard to describe how surreal it is to start a tour by walking past a Fur Seal and hundreds of Gentoo penguins, then climbing a peak which overlooks the astounding Gerlache Strait, skiing north facing corn and then seeing an Ocra whale on the trip back to the ship where a white-linen 5 star meal awaits.
The Ice Axe Expeditions outing is the one and only trip of this kind and employs 20+ guides to provide mountain safety once we get ashore.  The client to guide ratio is 4:1 and the groups can be mixed & matched to accommodate all levels of backcountry skiers, from near newbies to gnar mongers. It's ideal to preassemble a group of four or more with a guide of your choice (I'm volunteering…), but coming down solo or with a partner is also fine.   The Ocean Adventurer has already been chartered for 2018 and is filling up.  For more information, contact Kurt Williams at Ice Axe at 530.582.1246 or check out their website, www.iceaxe.tv
From the 2017 trip:
10/23 Monday –  SLC to NYC
What was I thinking booking not only one, but two, back to back red eye flights? The first one, which left at midnight from Salt Lake City, was just a warm up for the second, which was a truly miserable experience flying all night long from New York to Buenos Aires on Aerolineas Argentina capped with a huge layover.  But I made it and so did my bags.
10/25 Wednesday – Ushuaia Glacier Course
Twelve people signed up, and another almost joined at the last second.  We met at the Hotel Cap Polenia, which was an excellent meeting spot – central, people can buy lunch, coffee, etc..  Did a brief gear intro and then got up to the hill by 10:00am.
10/26 Thursday – Ushuaia Glacier Course
Went back up to the glacier and covered boot crampons, ice axe technique, setting anchors and how to rig up a C Drop and Z Drag rescue system.
Split into two groups for the afternoon.  Rich went up and to the left while Glen and I practiced steep skinning and kick turns on a short, steep slope with a gentle run out.  Afterwards, we skinned up to a couloir, then put on crampons and booted up it.  It turned out to have a short (10') ice bulge, which was fun.
10/27 Friday – Guide Orientation Day
10/28 Saturday – Client Ski Day
Met up with Mattias and we all went up to the Martial Glacier for some recon.  We have a group of six (three couples) from Sweden who have all been friends for a long time.  Covered the basics – skinning, ski poons, kick turns, roped travel and a jaunt to the far right col.
10/31 Sunday – Cast Off
Burned up some Ushuaia time in the morning, then did the group photo and transfer to the boat, all of which went smoothly.  Got underway at about 5:00pm (?) and did a lot of the safety and mandatory IATTO meetings.  The Drake looks like it has red all around, except for a hole which we should be able to pass through.
10/30 & 10/31 – Drake Passage
A very mellow Drake.  Disappointing.  Perhaps a Force 4 or so with a few whitecaps and a little swell, but not much.  The ship's Doctor had some new nausea meds which people, even Jorge, say works well.
Got to the South Shetland Islands early enough to ski for the afternoon, but it was very windy so we passed and headed further south, which was a good call.
November 1 – Charlotte Bay (Blue Room)
Established two landing sites – A and C.  B was originally in the plans, but C was nearby and better, and we were out of time, so we skipped it.  C had a semi steep booted right out of the water, then a cool short ridge line to where you could skin.  We went to A first as it was mellower, then skinned (ski poons) up towards the north peak, but skipped the summit head wall.  Skied down into the main bowl, then skinned up to the Blue Room Col.  Once there, half of our group split and went down to C with Matthias while I continued down Stefan's Powder Bowl with others.  At the bottom, we skied around the rock buttress, which was very scenic and remote feeling, then did a short horizontal roped skin back up to join the C up/down track.  Finished up at C.  Fun tour as it ticks all of the basics of the area – two landing sites, three bowls and a nice traverse of the area.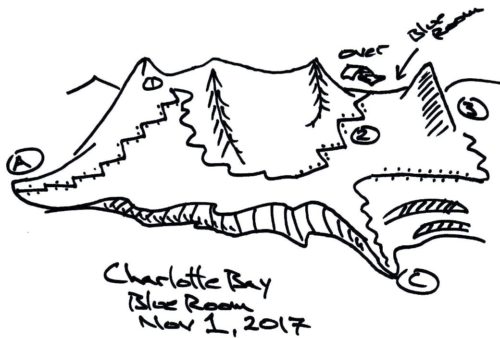 Travelled for about two hours to get to Rojas Island and Cuverville Island.  Went ashore to a massive Gentoo rookery on Cuverville and then on the Zodiac ride back with Haleigh saw a pod of Orca whales, including one that swam inches from the underside of our boat.  Super cool.  Great dinner as always, then a Bill Barker show.  Another fun day.
November 2 – GGV Station, Paradise Bay
Greybird day which rapidly deteriorated into a full-on ground blizzard.  Not so great for visibility, but dropped a few inches of fresh powder, which was great.  This is an excellent place for a storm day as there are historical sites, penguins and very safe skiing, plus usually a short Zodiac ride. Established three landing sites – A was on Lemaire Island (Rojas Peak), B was the GGV station and C was past that in no-man's land.  We skied B, which turned out to be excellent – two laps in nice powder especially as the visibility improved.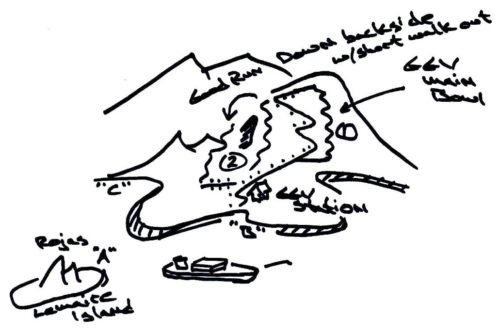 Sailed down to the Lemaire Channel and much to my surprise made it through, seeing a couple of Orcas there as well.  50 knot headwinds made it seem extra rugged.  The southern end was blocked by ice, so we loitered awhile and then turned back around and did a second trip through the Lemaire.
November 3, Ronge Island / George's Point and Zeiss' Needle
Beautiful day – started out at -5 degrees and mostly clear with the boat anchored right off of George's Point on Ronge Island.  Established two landing sites – A was the classic George's Point and B was Corn Harvest Hill.  Almost everyone went to A and most people went up Mount Tennet – 2,200′.  Nice skinning – no poons needed.  Topped out with some wind and a bit of crusty snow, but otherwise it was a fantastic summit. Skied back to the boat for lunch.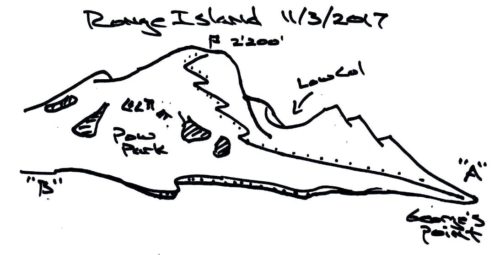 Quarkers established LZ D, which was over by Zeiss' Needle.  It was a bit of a haul in the Zodiacs, but the ambiance was absolutely first class, plus there was some nice powder. Really spectacular.  Great LZ on the rocks.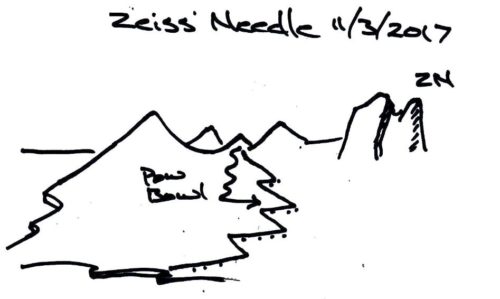 November 4 – Nansen Island
Got off to a smooth start.  There was some confusion about LZ A as it looked identical to previous year's site, but was a bit too early.  Afterwards, LZ A1 was established in the traditional spot which is where everyone came back down to.  Booted up it, cruised the ridgeline to the twin peaks and dropped a long cruiser down into the Big Hole.  Great low angle, endless cruising on soft snow. Skinned back up to the twin peaks, then followed the skin track back.  Lowered people down the booter with an "I" ski anchor – pretty quick.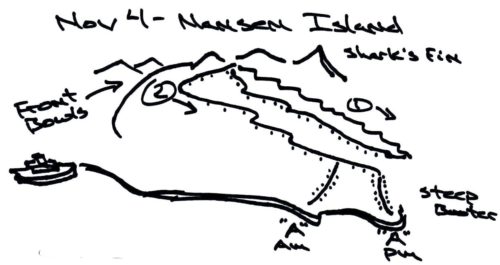 Nov 4 – Enterprise Island
Came back to the boat for lunch, then headed out at 3:00pm for a Zodiac tour over to the sunken "Governor" boat (previously the "Europa").  Went from there over to landing site B, which was the starting point for Enterprise Island.  Susane, who has been recovering from a leg injury, came along, as did Rich Meyer.  Fun little peak with chunky snow.
Capped the day with the Polar Plunge and Todd Offenbacher show.
November 5 – Livingston Island
Established LZ B in the morning with Tucker and Yukie, then went over to LZ C at the far end with our group.  Quite firm and we ended up aborting halfway up our first run.  Matthias and the two ladies went back and I stayed out with Carl, Jan and Martin for one more, which turned out to be very fun.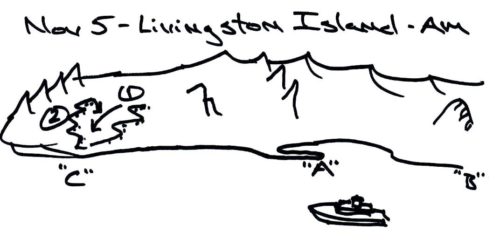 In the afternoon, went out with Mattias, Martin and Jan to LZ A, then up Bowl #1.  Great outing with nice light, good snow and a close group of friends.  Had the entire thing to ourselves as most people skied it earlier in the day.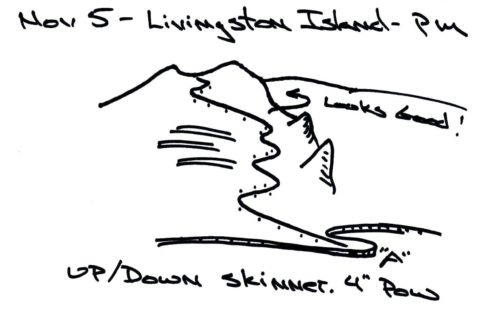 Finished with the Halloween/White Party.
November 6 – King George Island, Admiralty Bay
Woke up after the White Party (not so bad) to a semi greybird day.  Warm temps, almost no wind, and a 1,500' cloud layer.  Got ashore and had a delay due to forgotten skins, but had a good time checking out a sunning Fur Seal.  Skinned up the main bowl (Super Bowl) and had found a nice peaklette to hang out on and have a snack.  Skied back down the main skinner.  Fun cruising.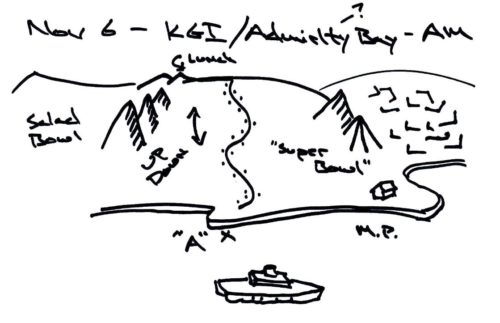 Got out to LZ D in the afternoon, which had EXCELLENT skiing potential.  Very worth checking out for the future as it provides perfect moderate angle skiing.  LZD is right by some sort of shipping container hut with an antenna.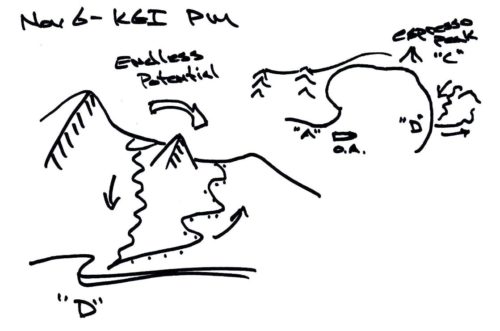 Came back to the boat, moved a bit, went to the Arctowski research station, then got underway back across the Drake, which looks like it is going to be Drake Lake – totally smooth.
Yet another absolutely amazing trip.
For more information on this trip and other adventures, check out www.iceaxe.tv
Category: Antarctica, Trip Reports