It seemed hard to believe that anything could ever top the 2009 Ice Axe Antarctica Ski Cruise, but I think this year actually did.  In 2009 we had freakishly good weather (clear, sunny and calm every single day), but in 2011, I think we were able to get into more interesting terrain.  Part of this had to do with the ice pack conditions, but another part was Doug Stoup and company knowing where to go and when. As with both trips, the people and the energy of having 120 like-minded skiers on board a boat cruising around at the bottom of the earth is really what makes it all worthwhile.  You go for the skiing, but in the end it's the entire package that you remember.
We had six days of skiing in Antarctica with 2-3 in Ushuaia, Argentina beforehand.  I kept a photo, gps and written log of where we went, which is available by clicking the photo below (2mb pdf file).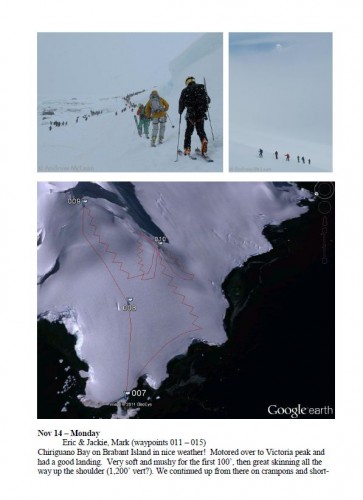 And, a 50 image set of my favorite photos…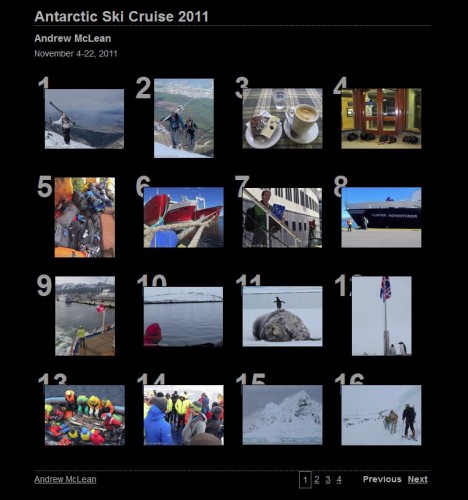 On a personal level, I think I was almost as excited, if not more, about the return trip back across the Drake Passage as any of the skiing.  One of the great things about nature and being outdoors is witnessing weather events in all of their power and glory.  On a previous trip to Antarctica in 2003 (?) we hit 68 mph winds while sailing in a 50′ boat, which was pretty damn exciting.  This clocked in at a "Force 10" on the Beaufort scale, which seemed like it would be hard to beat, but since the scale goes up to Force 12 (hurricane), it was like getting sooooo close, but not quite the ultimate ride.  On both legs in 2009 and the down-bound leg of 2011, we had Force 2 conditions, which are hardly worth waking up for.  However, the return leg on this trip delivered the holy grail of oceanic intensity – Force 12 in the Drake, aka The Drake Shake.  I was so happy.  :)  The waves were a bit undersized at 8-10 meters, but the wind was piping up to 100+ knots.  Yehaw! It was especially great to experience this on a 320′ ice reinforced, steel hulled boat that was built and designed for conditions like this and was being skippered by a very experienced Captain.
The trip is happening again in 2013 and Karyn Stanley of Ice Axe was already getting emails requesting reservations before the ship reached the dock.  It's an incredible ride.
________________________________
Help support StraightChuter.com and document your wind chill factor with a Brunton Atmospheric Data Center Wind from Backcountry.com. Click on the photo below…
Category: Trip Reports