The skiing in Alaska is always good, but this year was exceptional. Not only did the weather hold out for almost the entire three week trip, but the snow was so stable it was almost scary. I kept having to remind myself to be careful of overconfidence, as all of the aspects and elevations we skied were covered in about 6″ of recrystallized powder, which is a dream to ski.
Most of the trip was in the Wrangell-St.Elias National Park & Preserve, but we had a few spare days at the end, so we went over to Thompson Pass for some car based skiing. The trip started out with three days of warm up skiing out of the Ultima Thule Lodge with the Claus family, Eli Potter and Hombi which set the stage for the fantastic conditions to come.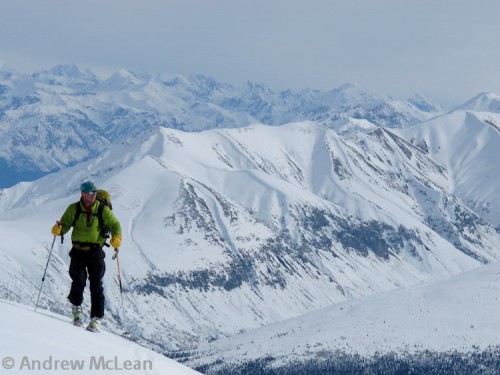 Eli Potter cruising the Wrangells.
This was followed up by the first annual Wild Alpine Wilderness Ski Week, which involved eight of us (a full Otter load) doing day trips out of the Ultima Thule Lodge, then coming back for one of Donna's excellent dinners and warm, dry beds. We skied a variety of terrain and a typical day involved getting a high drop-off, taking a few laps in the local area, then finishing off with a full-length run all the way to the valley floor. Oftentimes the snow will get mushy and isothermal as you descend down into the low elevations, but we seemed to be ahead of the warming curve this year and the runs were good to the last drop – all 4-5,000′ of them. By the end of the week we had averaged about 5,500′ of climbing per day and 8,000′ of descent.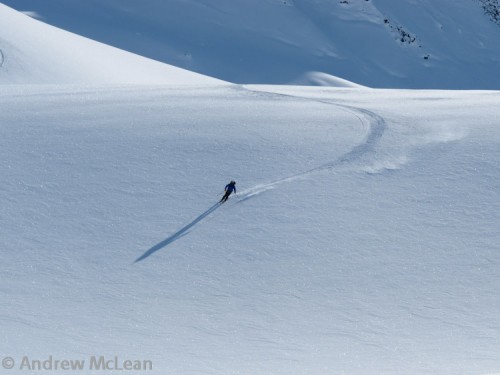 A typical Wild Alpine Ski Week run – huge slopes, great snow and nice weather.
Aria Thomases, the organizer behind Ski Week, has already started setting the dates for next year and I can't wait to get back there. It was a blast!
After Ski Week, Jim Harris and I stayed on for an attempt on Mt. Bona, which I had tried in 2007. This year the ridgeline we were intending to climb and ski was a glistening sheet of blue ice, but we decided to give it a try anyway, as I'm a slow learner. It took two days to decide that our time would be better spent elsewhere, and luckily Paul Claus was able to pick us up and fly us back to the Ultima Thule Lodge.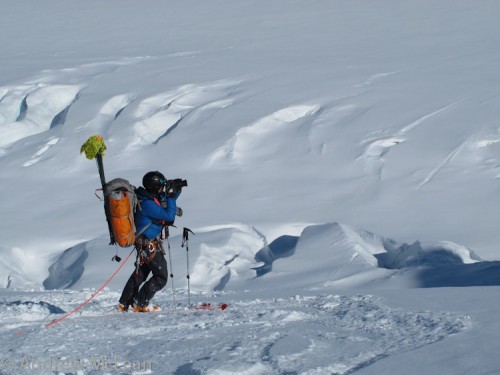 Jim Harris shooting a few photo of the flanks of Mt. Bona.
A day later, we ended up flying out to a lake in a nearby valley, which may be the holy grail of backcountry skiing. I'd done a few laps in that area before, but by camping and spending multiple days there, the potential of the region suddenly became obvious. There's just about any and every type of skiing you could imagine, and it is all very high quality.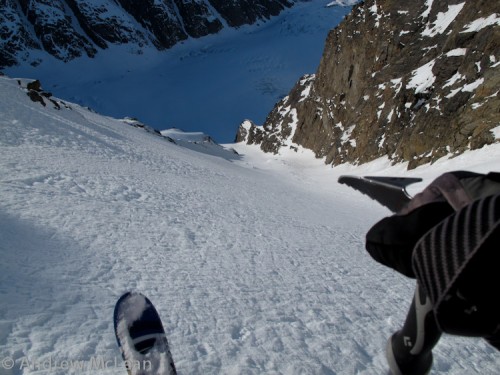 "Taken for Granite" couloir – one of many 3,000'+ runs in the Slotterhouse Valley.
As we had no car in Chitna, and thus no way of getting back to Anchorage, we gratefully hitched a ride with Paul in the Otter when he flew back to start another project. This turned out to be one of the most spectacular flights I've ever been on as we flew along the crest of the Chugach Mountains in perfect weather for what seemed like hours (it was probably more like 1.5 hours).
After a night in Anchorage at the Puffin Inn (ironically, no smoking allowed), we rented a car and drove out to Thompson Pass, where we ended up seeing three friends within five minutes of arriving. I hadn't been to TP for a while, but between Tailgate Alaska, high powered snowmobiles, snow cat operations and roughly 7-10 helicopters spread out over a handful of heliskiing operations, it was like a ski resort without lifts. Fortunately, it is a large corridor with tons of options, so the additional activity in the area just means that it has a fun social scene. We skied a variety of couloirs, including a few of them in the legendary Chugach powder, where you are able to lay into a turn full-bore on a 40+ degree slope with total confidence.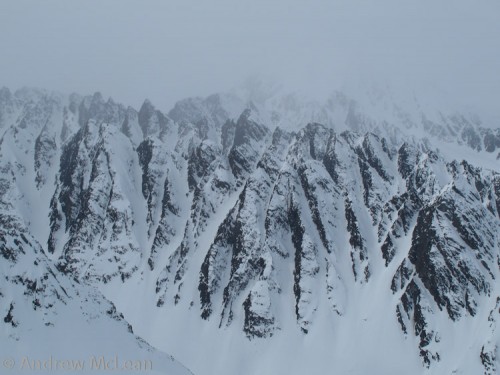 The aptly named Iguana Backs off of Thompson Pass.
A big thanks to everyone who helped make it happen, especially Jim Harris who is a five-star travel partner. We have some unfinished business to return to next year. ;)
Here's a link to a photo essay of the trip:
http://www.straightchuter.com/am-content/AK2012/index.html
________________________________
Help support StraightChuter.com and ride the white AK wave with a pair of K2 Coomback Skis ON SALE NOW from Backcountry.com. Click on the photo below…

Category: Trip Reports