The ABS Avalanche Airbag System company has been around the longest of the airbag manufacturers and it shows in the construction and details of their ABS Powder 15. While the basic concept is the same as other airbags, the Powder 15 has quite a few unique features that make it ideal for a small airbag touring pack.  For a real-life video of an ABS Dual System bag being deployed in the French backcountry, click here.
Overview
A very well made and designed pack that features excellent detailing without going over-board on marketing features.  It is comfortable, carries well and has enough capacity to use as a day touring pack or for mechanized skiing.  The ability to swap out different "packs" onto a single base unit is nice.  The Powder 15 is lightest of the three packs I tested and its trim size makes you forget you are even carrying an airbag pack.  On the downside, it is the most expensive of the three packs I tested.
Nitrogen Gas
ABS uses nitrogen gas instead of compressed air as the nitrogen is not affected by temperature or elevation.  "So what?"  you say, or at least I did when I first heard this, but it makes sense, especially for skiing. Deploying an airbag on Thompson Pass (2,800′) versus a Colorado 14,000′ peak, or in minus 20 degree  Montana weather versus a baking hot day in the Sierra's will result in radically different amounts of bag pressure.  Nitrogen helps even this out, which is why it is also used for inflating race car tires.  For refills, you need to find an ABS dealer and then exchange the used cylinder/trigger kit for a fully activated one for a fee.
Explosive charge for trigger
Instead of using a wire cable to trigger the airbags, the ABS system has a small explosive charge in the handle that when detonated sends pressure through a tube running over your shoulder and ruptures a disk which allows the bags to inflate.  This has the advantage of fewer moving parts to break or freeze and also allows the handle to be completely removed for travel or loading in/out of cars, helis or trams.  It raises a big question-mark about air travel, but then again airlines allow hunters to travel with ammunition, so perhaps this is the same.
Dual System
The Powder 15 uses the ABS Dual System, which entails two separate venturi valves and two separate 85 liter airbags.  The two systems work unison, but if one fails (say the bag pops on a rock),  it doesn't affect the other.
Pack & Carrying Capacity
For a $1,152 pack, ABS has shown commendable restraint from adding tons of extra junky features to the Powder 15 pack itself.  There is a small top key/wallet pocket and then a main pocket with internal sleeves for shovel handles/blades and probes, as well as enough room to carry the basics (jacket, food, water). It is an easy pack to use and carries well. On the to-be-desired side, I wish it had more options for strapping gear to the outside and I prefer lighter fabric colors for packs as black seems to swallow all available light and make it hard to find things inside the pack.
Details:
Velcro waist belt – This is a small, but nice detail.  Airbag packs forgo dainty Fastex buckles and use a beefier two-part metal buckle for the waist belt which becomes a pain to get into and out of over the course of doing it ten times a day.  The ABS packs allow you to Velcro the waist belt together, which not only makes it easier to eventually buckle the harness, but also works well for ascending safe lines when you want to just have the waist belt on loosely.  The steel buckle on the ABS pack is a nice trim little unit that stays out of the way.
Helmet Hammock – The Powder 15 comes with a detachable 4-point exterior helmet hammock on the back.
Ski Carrying Method – None, although it is easy to rig a diagonal/vertical strap system to the helmet hammock buckles with some foresight.
No Gauge on the Nitrogen Cylinder – Unlike the compressed air cylinders on other airbags, the nitrogen cylinders on ABS packs do not have a dial gauge telling you what the tank pressure is.  As a life-saving device this is a bit disconcerting as there is no visual way to ensure the cylinder is full, aside from taking it out and weighing it, which is what ABS recommends.  The plus side of this is that it weighs less and is smaller.
Flying with Nitrogen & Explosives – This could potentially be a concern if you were flying commercial airlines to go on a heli-skiing trip.  Personally, I wouldn't take an airbag pack on an expedition (too heavy), so this isn't a big deal for me.
These small airbag packs are mainly intended for mechanized skiing, but if you can live with minimal carrying capacity, the Powder 15 works great for touring as well.  The Powder 15 is lightweight and trim enough that I would carry it for the majority of my Wasatch skiing, which is a key issue for me.  If a pack is too heavy or uncomfortable, I won't use it all the time, which you need to do in avalanche terrain.
________________________________
Help support StraightChuter.com and get some harness buckle practice with a Black Diamond Alpine Bod Harness from Backcountry.com. Click on the photo below…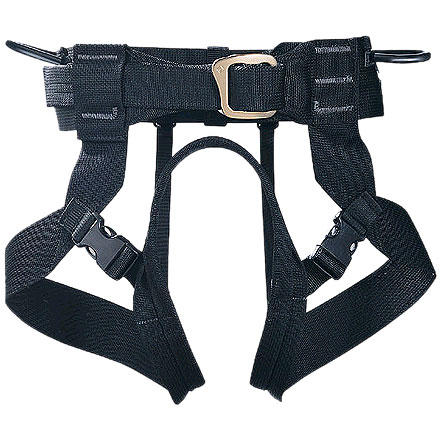 Category: Gear Reviews