The Ribbon at Alta is a line that I've been meaning to ski for about the last twenty years, yet I never seem to get around to it.  One good reason for putting it off is that it traverses through the top of the Devils Castle Buttress with a whopping 600′ of exposure the entire time.  Another reason to put it off is that it is 100% in bounds at Alta, and although you might be able to semi-legally ski it when the gates are open, I'm sure the Patrol would have something to say about it.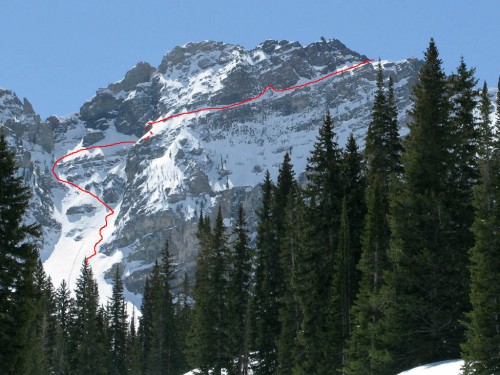 I first heard of this line from Lorne Glick who was driving cats at Alta at the time.  He skied it with John Whedon (skiing is actually a very relative term with The Ribbon…) and said that it was named Ciochetti's Ribbon after Dave Ciochetti, an Alta Patroller who is not only credited with the first descent, but also brought along his girlfriend as a partner.  I probably would have put this off for a few more years/decades, except Courtney Phillips pointed out that I wasn't doing anything tomorrow afternoon, so we should do it ASAP.  Thanks for the motivation Court!
The Ribbon is a 100% full-on blend of skiing and rock climbing as you need to belay each pitch and not only place protection for yourself, but your partner as well.  There is really no advantage or disadvantage to leading or following as both skiers face the same fall potential.  The rock is tricky to get gear in, especially if you underestimate the endeavor and bring a skimpy rack like we did.  Super bad idea!
Getting started on The Ribbon is dangerously easy – you skin up the Devil's Castle apron, wrap around the back and boom – there it is!  Much to our amazement, there were another set of tracks in there already.
The entire outing entails 2,800′ of climbing and skiing.  As it faces due north and is about as high as you can get in the Wasatch, the snow was still soft and fluffy on the traverse.
This was one of two lines in The Chuting Gallery which I hadn't skied, so one down, one to go!  I'm saving the last one for an outing with Noah Howell, who is just about to tick them all himself.
________________________________
Help support StraightChuter.com and protect those spicy lines with a Black Diamond Camalot on sale now at Backcountry.com. Click on the photo below…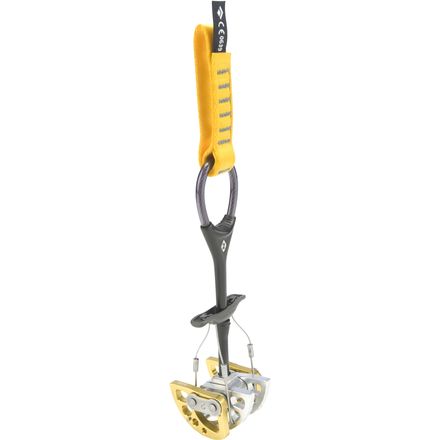 Category: Trip Reports