Part 9 in 10 of my personal avalanche avoidance theories.
Bro'ing down in the mountains with your buddies is a big part of what makes backcountry skiing so fun. There's an intensity that comes from trusting your friends to rescue you if things go wrong (and vice versa) that leads to strong relationships, which may, or may not extend beyond the mountains. It's common to exchange dialog along the lines of "I'm okay with skiing this. Are you?" while skiing with your partners, but it actually extends way beyond this circle.
After spending hours on the skin track with a buddy and hearing about his family and friends, the worst place to actually meet them in person for the first time is at his funeral. "Oh, you're Steve's mom. He talked about you all the time. It's great to finally meet you. I'm so sorry." At that point skiing looks incredibly stupid and you'd do just about anything to turn the clock back.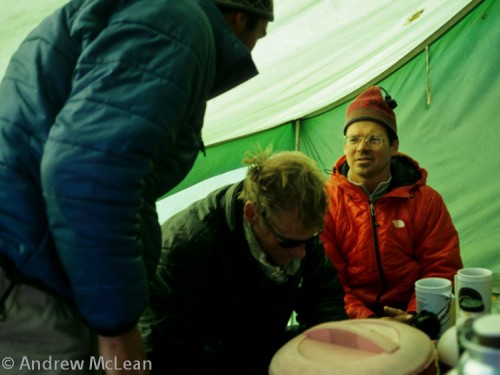 The aftermath of a dual fatality accident.  Avalanches happen quickly, but their effects last a lifetime.
Even if a certain amount of risk is acceptable between you and your partner(s), think outside of that circle and consider the bigger picture of family and friends. If you truly care about your brohams, you'll care about their families as well, who may not be okay with the idea of dying doing what you love.
________________________________
Help support StraightChuter.com and shed some light with a Black Diamond Apollo Lantern from Backcountry.com. Click on the photo below…
Category: 07 Avalanche Avoidance