Part 7 of 10 in a series of personal avalanche avoidance theories.
After going on a financial disaster reading bender for the last three years, I started noticing a lot of similarities between investors and skiers:
Risk versus Reward
Smart people getting whacked
Dumb people getting lucky
Greed
Herd instinct
Competition
Tons of underlying information available.
Perhaps the biggest similarity is that both financial markets and snowpacks are too complex and too connected to ever be able to forecast them with 100% accuracy. There will always be "one-in-a-million" events in both. Where they do differ is in the end result of getting it wrong – instead of getting bailed out and emerging richer than ever, with avalanches you die. It's quite unfair.


Noah and Lloyd – aside from a few hundred million dollars, not really so different.
With this in mind, it is a good idea to always hedge your avalanche bets. The best way to do this is to develop excellent safe travel protocol (one at a time, spread out, don't stop in run out zones, etc.) until they become ingrained habit. Safe travel habits have saved me many times that I know of, and many, many more that I don't.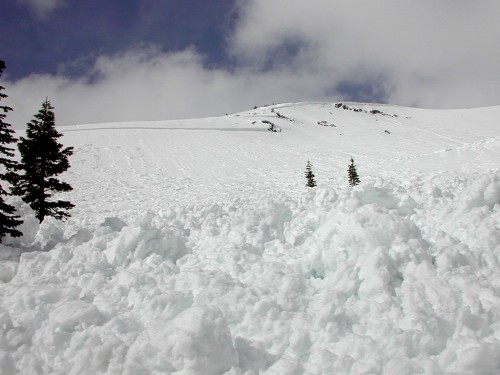 The elusive fat-tailed black swan. This slide took place during a backcountry safety class when 4-5 avalanche experts (including me) swore on a stack of AMGA Handbooks that you couldn't buy an avalanche on that day.
Also, be conscious of being too greedy. If you've skied a bunch of great lines in a day, don't push that dicey looking last one.  Look at skiing as a lifelong investment, not a get rich quick scheme.
________________________________
Help support StraightChuter.com and push through the tranches with a Pieps IProbe One Probe ON SALE NOW from Backcountry.com. Click on the photo below…

Category: 07 Avalanche Avoidance