Part 6 in 10 of my personal avalanche avoidance theories..
Deciding to ski an avalanche slope based on gut instincts alone is a bad habit to get into, but there is one occasion when you definitely should trust your avalanche instincts: when they are telling you NOT to do it. This is akin to Spiderman's spidey senses which buzz when danger is imminent, but are more like avalanche senses. If it is a green light day, low danger, nice slope, etc., and something just doesn't feel right, it is worth listening to.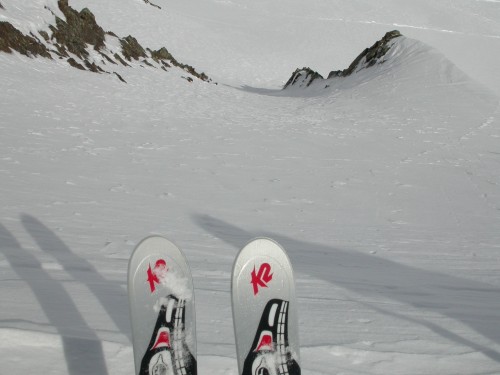 The one that got away…  There was something about this chute that seemed weird to me, so instead of skiing it I took a photo and went elsewhere.
This phenomenon of something just seeming off is described in Malcom Gladwell's book entitled "Blink" where among other examples, he details antiquities experts who recognize a fake statue at a glance. Gladwell describes this process as "thin-slice" filtering which helps focus in on the few factors that matter when you are overwhelmed with variables. In terms of snowpack, this could be anything from the surface texture, the way a certain slope is shaded, an odd looking lump or anything else that subconsciously sets off an alarm.
It is a fine line between confidence and stupidity, but if there is some nagging feeling, come back another day when it isn't there.
________________________________
Help support StraightChuter.com and get some Intuition liner equipped Scarpa Rush Alpine Touring Boots from Backcountry.com. Click on the photo below…

Category: 07 Avalanche Avoidance