I tend to get excited about small things and in that regard, I'm downright giddy about the #512 Expedition Journal from  Rite in the Rain (RITR).  I've always been a list, sketchbook and notebook kind of guy and really came out of the closet when I saw that some of the best expedition leaders I'd ever met carried RITR notebooks and kept meticulous notes. Putting together a trip is a lot like starting a small business with an expected three month life span.  You need to organize people, keep track of money, follow conditions, take notes, work with other agencies, have a plan of attack, stick to a schedule, have a backup plan, and then be able to review your records months or years later.  The #512 is perfectly suited for all of this, plus you can write it all down in the rain, or even underwater.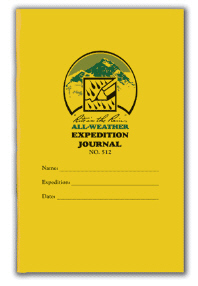 I was first introduced to the 512 by its co-creator, Conrad Anker.  Conrad is a 5-star expedition planner, note taker and world traveler, but he seemed most excited about the booklet being named the 512 (5.12) which is a classic rock climbing rating.  The 512 covers everything from team member's blood type to emergency contact info, a calendar, weather charts, map scales, elevation data, expense report and ground-to-air signals.  The overall booklet is 48 pages long, which is perfect for a single expedition or trip – any longer and you end up with a bunch of white space, any shorter and you are writing on top of other details. It also has a variety of blank page formats, including ruled pages (good for an expedition diary) and blank pages (good for sketching new tent designs).
Measuring in at 4 5/8 inches wide by 7″ tall, the 512 is slim and trim enough to fit unobtrusively into a pocket.  If you carry it in your back hip pocket, it even takes on the shape of your butt (<– big plus).
As perfect as it is, of course, it needs to be modified.  For starters, the cover accepts stickers very well.  After that, two slits can be cut in the backcover to form a pen carrier so you are never without something to write with.  Being a small, obscure item, the 512 is hard to find in stores, but can be ordered directly from RITR here, as well as lots of great waterproof paper, astronaut pens and travel journals.  A highly recommended source of cheap fun.
As a nice touch and dose of good karma, a proceed of the sales of the 512 go to help support the Khumbu Climbing School Program.
________________________________
Help support StraightChuter.com and stay dry while you are writing in the rain with a Mountain Hardwear Epic Jacket from Backcountry.com. Click on the photo below…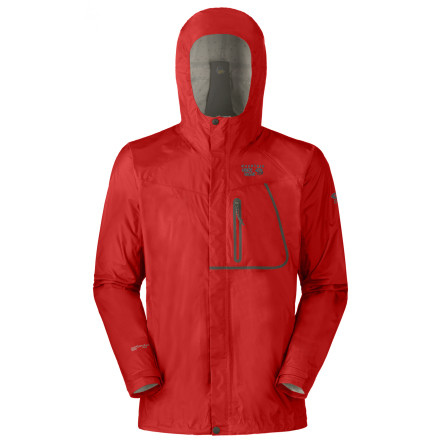 Category: Gear Reviews