Although I vastly prefer real rock in a natural setting, after seeing how my 3 and 4 year-old girls glom onto artificial climbing walls, I decided to build one. There are millions of plans for walls out there, but I wanted to make mine so it could withstand outdoor weather, be semi-portable and, of course, cheap. The semi portable part is important as it can be unbolted from underneath our porch and moved, sold and/or thrown away easily. The cheap part is the pipe dream of all DIY projects, and although the actual cash outlay was about $150 for everything, that doesn't include all of the random hardware and tools I already had, which would put the real cost somewhere around $22,435.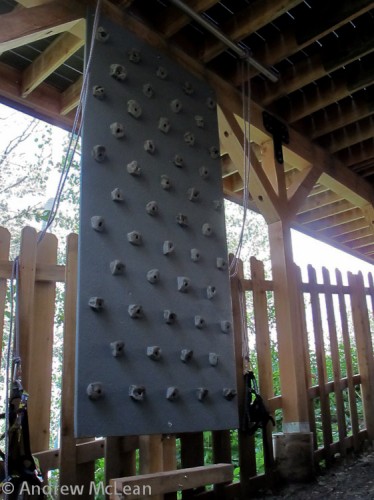 A key part of this wall was buying the kit of 50 holds from Rocky Mountain Climbing Gear, which was $80 including the t-nuts, 3/8″ allen bolts, holds AND shipping. That's a screamin' deal and seemingly only available on their eBay store.
I hung this panel underneath our porch, which keeps it nice and cool, plus protects it from the elements.  There is room to expand horizontally, and if the kids get really good, we can add holds to the deck joists.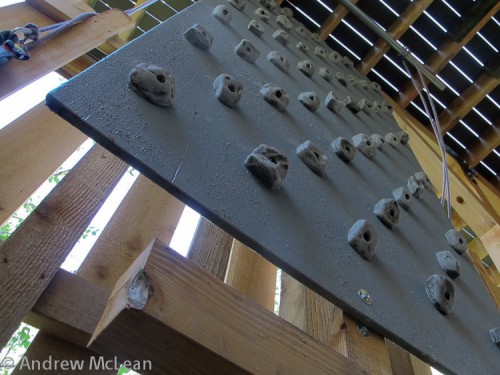 The panel starts out as a sheet of 4×8′ 3/4″ CDX plywood, which then gets a 1/4″ edge radius, a coat of "Kilz" primer to seal it, a first coat of garage floor paint, and then a second coat of paint with sandbox sand/dirt sifted in for texture. The horizontal 4×4 below the panel is our version of the Hillary Step and helps get the kids going.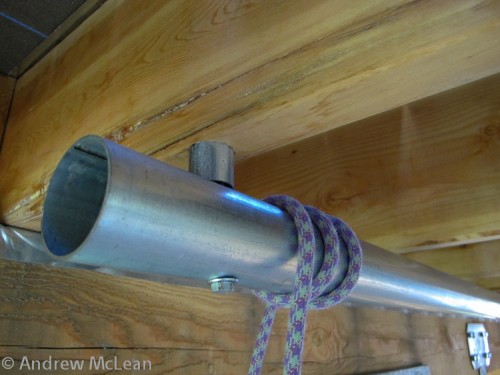 The "belay bar" is a 6′ length of chainlink fence post which is lag bolted into the beams with 1″ spacers.  The spacers allow the rope to slide horizontally underneath the joists. By wrapping the rope around the bar you can get plenty of belay friction, especially for a 32 pounder.  This is not UIAA approved, but the wall is so low they will outgrow the need for a roped belay pretty soon anyway.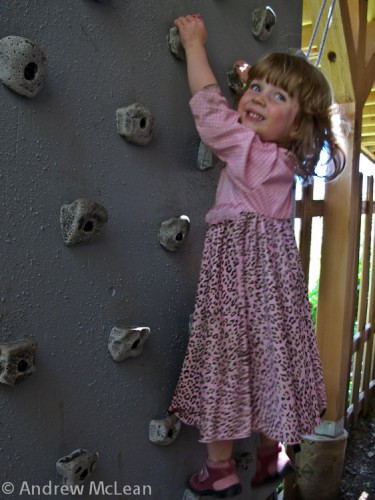 The completion of the wall coincided with Stella's third birthday, which was a happy accident. The holds are all huge buckets, but still it is pretty cool to see the neighborhood munchkins crank up it. I put a bike horn at the top for a little extra motivation. You aren't done until you honk the horn…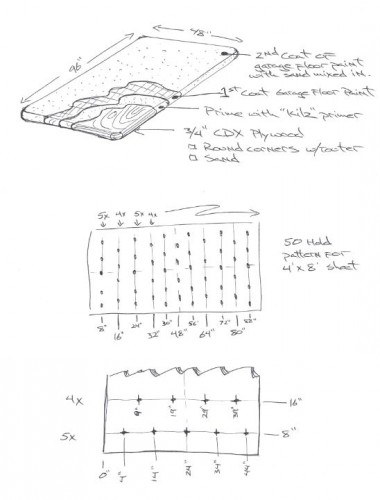 Here's a schematic of the layout.  Click here to download a larger pdf version.
________________________________
Help support StraightChuter.com and pitch off into a Black Diamond Impact Crash Pad ON SALE NOW from Backcountry.com. Click on the photo below…

Category: Rock Climbing