The first (and most likely only) time I went on a CMH trip, it gushed rain for the entire week. This was a tragedy and the lodge staff said that they had never seen anything like it in their entire history.  One of the saving graces was that I got to spend a lot of time marveling over the 3-D model of the surrounding terrain which was encased in a Stickley style floor table.  It was an beautiful work of art, and when I got home and dried out, I checked into making a similar version for the Wasatch.  The model alone was going to be many thousands of dollars, which put a crimp in the project, but not my desire.
This is perhaps a blessing as I recently had an opportunity to check out the 3D Atlas and posters from 2i3D, which provide a similar viewing experience for much less cost.  When viewed on a table, the images literally pop off the page in such clear, crisp resolution that it seems like you could slice your hand through them. This seems especially unbelievable as without the supplied 3D glasses, the images look fuzzy and muddled to the point that it almost hurts to look at them.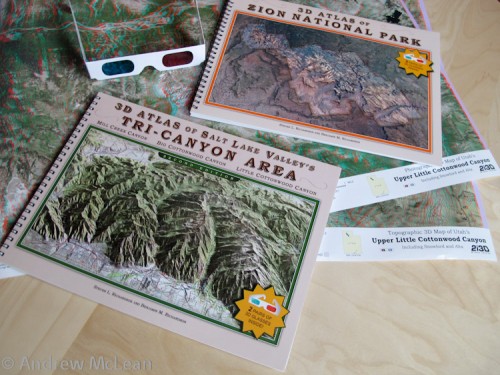 The computer generated imagery provides the equivalent of viewing the maps/images from a god-like vantage of 20,000′ and with eyes 5,000′ apart. The map data for the Wasatch Atlas book came from a 1998 Forest Service update which was done in anticipation of the 2002 Olympics, and as such is very up to date with trailheads, campgrounds and private property.  If you can follow it, there is a detailed explanation in the beginning of the atlas about how anaglyphic 3D maps are made, but it is hardly required reading as the images speak for themselves.
The Wasatch Tri-Canyons Atlas contains 21 spreads of 7.5 minute quadrangles. Each spread has an photographic image of the terrain on the left and then a complementary topographic image on the right. This is a cool feature as it is easy to see a nice looking peak or feature on the left, then instantly identify it on the right.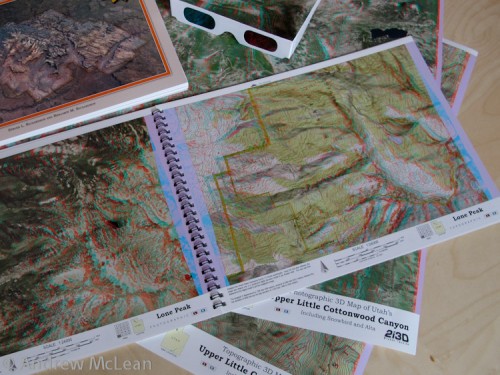 2i3D currently has two atlas available – the Tri Canyons area of the Wasatch Mountains $19.95) and Zion National Park ($29.95). The Zion maps are like virtual canyoneering and slots like Imlay and Heaps pop out in all of their glory.  There are also four posters available, including upper Little Cottonwood Canyon (Alta & Snowbird).  If you happen to have a pair of red/cyan glasses, the 2i3D website is also in 3D and worth a look.
The posters range from between $9.95 and $19.95, and like the books, can be purchased at 2i3D.com.  Since a CMH floor table model may never happen for me, I'm thinking of just taping a 2i3D poster to my IKEA table, handing out 3D glasses and calling it good.
________________________________
Help support StraightChuter.com and get free shipping from Backcountry.com. Click on the banner below…
Category: Gear Reviews