While there was an overwhelming amount of new stuff in store for 2015/16 at the Outdoor Retailer Show, I have to admit to having a weakness for hard goods, especially those made out of exotic steels, sexy plastics and carbon fiber.  I was not disappointed.
Odds and Pointy Ends
Black Diamond Snaggletooth Crampon
Since most crampons are asymmetrical anyways, it makes sense to have an asymmetrical front points as well.  While this has been done with technical crampons, the BD Snaggletooth now offers it in a 10 point mountaineering model as well.  According to Bill Belcourt at BD, the crux of this crampon was getting the coining deep enough on the major front point to allow it to pass the UIAA strength test, which is does.  This should be a nice hybrid mountaineering 'poon.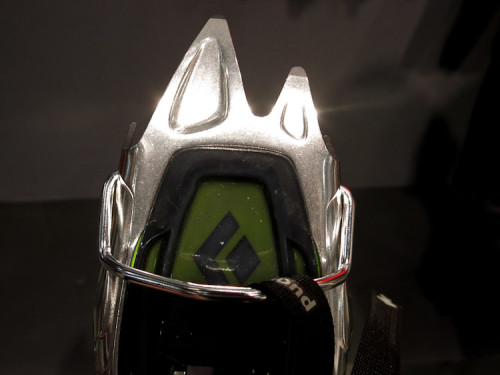 The Black Diamond Snaggletooth crampoon.
Komperdell Stiletto Ski Pole
The idea of having a push-botton on your ski pole grip to change shaft lengths has been toyed with for years, but this is the first time I've ever actually seen it, and it looks very well thought out, lightweight and super sturdy.  The pole is spring loaded, so the lower shaft either springs out or retracts on the fly when you push the thumb button.  My first impulse was to try to get the pole to collapse under a hard push, but some sort of internal locking/cam mechanism provides so much clamping power that in testing by Komperdell the shaft either collapsed or the testing machine broke first.  They will be available in two different lengths.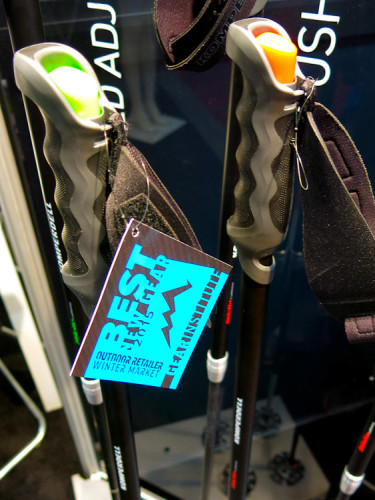 Komperdell Stiletto.  The green/orange buttons control the length.
The Stiletto pole also comes with ball & socket articulating baskets, which are especially nice for uphill work when you are contouring or booting chutes as they keep the pole tip from levering out.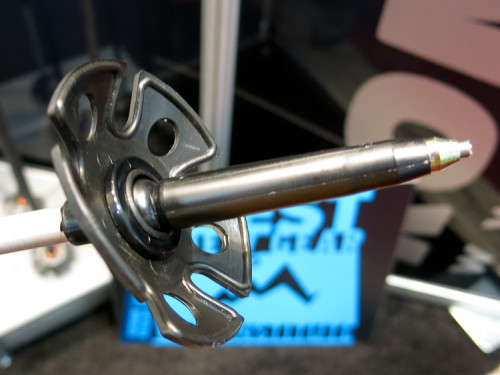 Julbo Googles
I forgot what the exact model name is for these, but along with all of the other quality Julbo features, these lenses actually pop forward to create an anti-fogging air gap to the point that you could probably skin uphill with them on.  When it is time to descend, you pop the lenses back in place.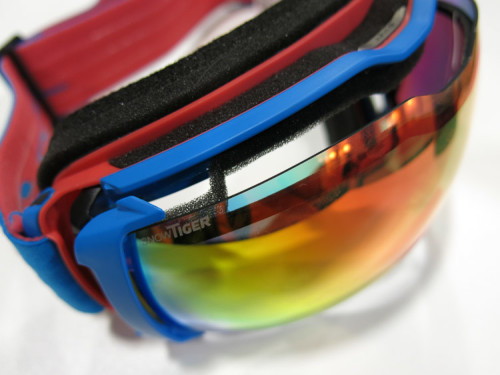 The Julbo's with the lens extended.
Mount Ortovox
I thought this was one of the cooler mountain and avalanche teaching devices I've ever seen, especially as it is so simple. It is basically a vacuum-formed stylized mountain with different angles, ridges, peaks and couloirs, which you can write on with Dry-Erase markers to show different angles, wind direction and routes.  By adding a flashlight, you can simulate the sun/shade and it also comes with a corresponding topo map and the Ortovox "Safety Academy Guide Book" which is a very concise resource by itself.  The thing I really like about it is that it helps give a big-picture perspective on mountainscapes, which is an important concept.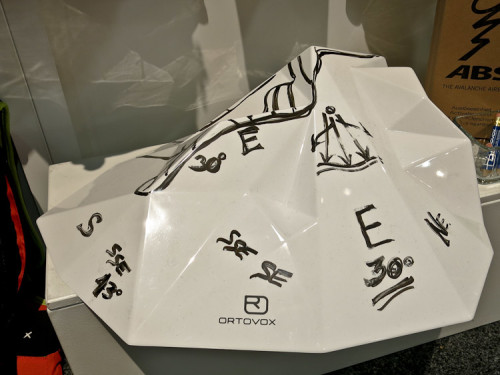 Petzl RAD System
Having hauled around heavy ropes and crevasse rescue gear for years and never had to actually use it, I was thrilled to see this very tight, lightweight and complete system from Petzl.  Appropriately named "RAD" for Rescue And Descent, the heart of this system is 30 meters of 6mm line, a Micro Traction device and a Tibloc, all of which fit into a bag which is about the size of a loaf of bread.  The 6mm cord is good for glacier travel, or for emergency rappels.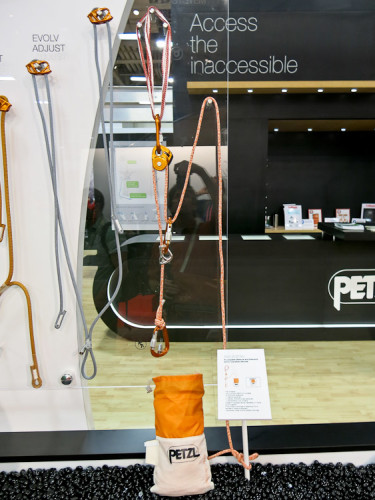 The Petzl RAD system on the right.  All of it fits into the bag at the bottom.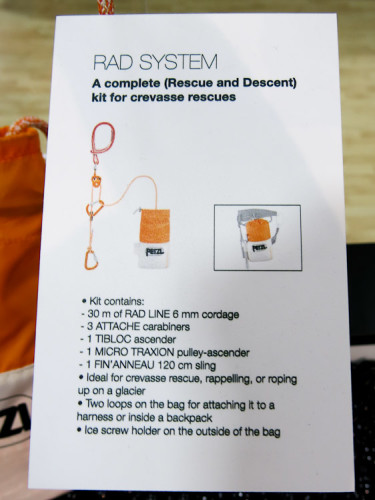 Drones
Apparently one of the top internet searches for 2014 was "buy a drone."  Now you can do it at the OR Show. Drones in general make the American male heart beat faster.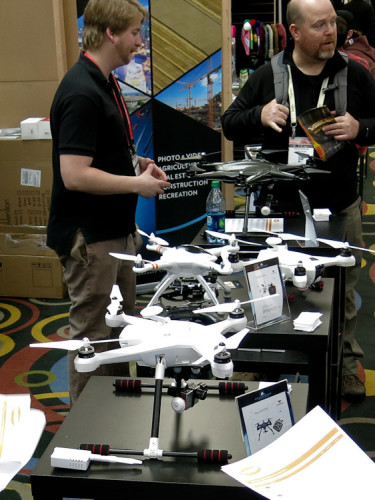 Skis, Boots & Bindings
Although I don't have any better ideas, blasting high-speed icy groomers at a ski resort is fun, but hardly a fair test of backcountry ski gear.  In situations like this, the biggest, heaviest and stiffest usually feels the best, but that's hardly what you want for touring.  Conversely, maching a touring set-up down an icy groomer is like riding a skateboard on a freeway. I got out on 4-5 different skis during the on snow demo, but can't really speak to how they would work for touring.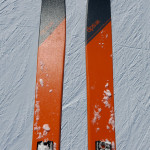 Bindings
I've lost track of how many "pin tech" bindings are out there nowadays, but nobody has the extensive line-up like the original maker, Dynafit.

More flavors than a Baskin Robbins ice cream store…
Boots
Salomon MTN LAB boot
These were in high demand during the on snow demo so I never got a chance to ski on them, but if Greg Hill was involved with their development, I suspect they will be a touring machine.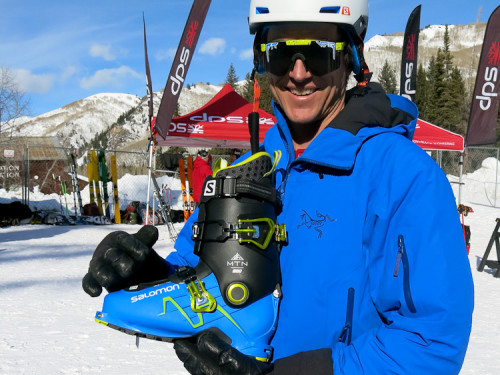 My lungs and legs hurt just looking at this photo of Greg Hill and the MTN LAB boot he helped design.  
Scarpa
I'm still a Maestrale type of guy (the orange boot with blue buckles in the lower left of the photo below), but Scarpa has a huge range of boots for just about everyone, including their new heavy-hitting "Freedom" boot in the glass case.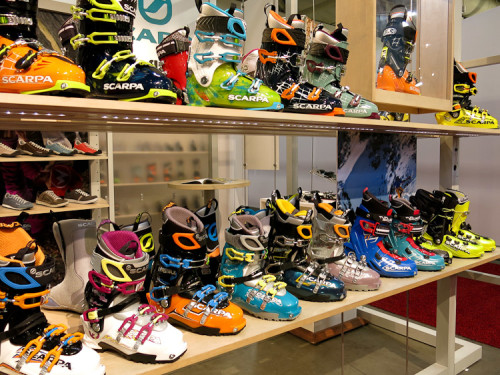 Skins
Fisher PROFOIL
I have yet to talk to anyone who has actually used these, but the expectations are sky high – lightweight, indestructible, smooth gliding, supposedly great climbing, doesn't absorb water and has already won three awards.  That's a lot to live up to and I hope it all comes true.  To me, these skins look like they are made from the p-tex fishscale bases used on nordic skis, but perhaps with a more aggressive pattern.  They fold down to about half of what a normal skin does and use skin glue for adhesion.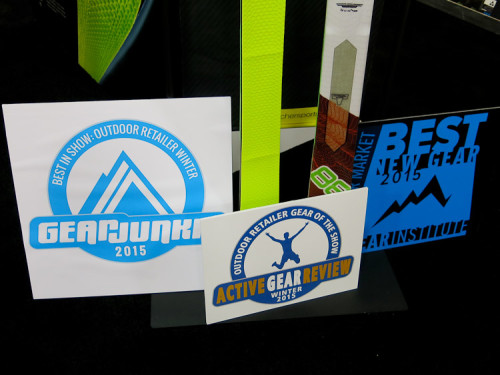 Kohla Skins
I hadn't heard of these Austrian skins before, but I guess they've been around for about 4-5 years.  They use a "glue" which looks like silicon to me, and one model also comes with a dual pattern which has a higher tack adhesive around the edges and the tips/tails, which is where glue usually starts to fail. As a side note, traditional European ski glue is generally less tacky than American as the toxic chemicals which we love so much here are banned in Europe.  This has led to a much greater emphasis on new glues or adhesive systems from the European market.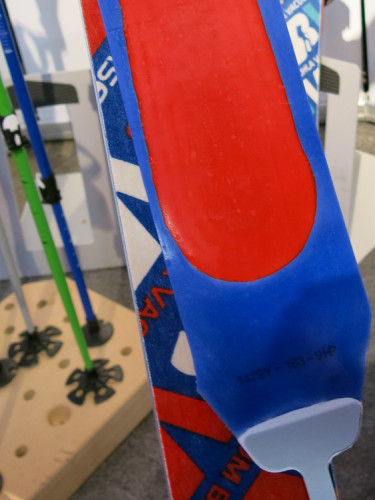 Kohla Vacuum Base Composite skins.  The blue is higher tack for added security around the edges, and the red is lower tack to help with peeling them apart.
EvoTec High Trail Skins
A Swiss company with silicon-like glue and a nice looking tip wire.  One advantage of this type of adhesive is that it can be washed of dirt, pine needles and hand oil.  I've never used this type of adhesive (Geko, evotec, Kohla, etc,) so I'll take the 5th on it.
Trends
Backcountry skiing seems to have arrived and major companies like Fisher, Atomic and Salomon all have a full line of at least skis and boots, if not bindings as well. This should be interesting as it is less of a stretch for these major companies to retool for lightweight skis and boots than for a smaller company to build up those capacities from scratch.  That these big companies are getting into the backcountry says something about the growth of touring and where they see the future markets of skiing going.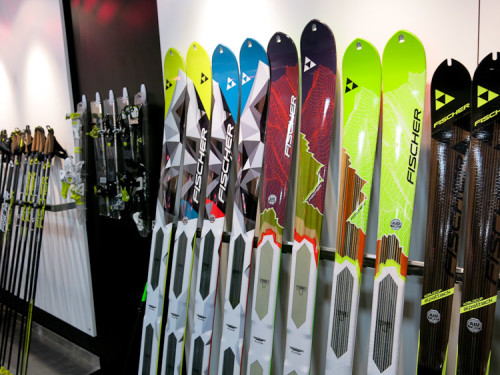 Fisher – a full line of touring skis, boots, bindings, poles and skins.
________________________________
Help support StraightChuter.com and buckle up in a pair of Scarpa Maestrale 1.0 Alpine Touring Boots from Backcountry.com. Click on the photo below.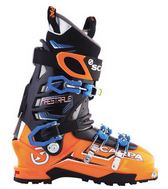 Category: Gear Reviews, Random