Every time I start to think I've been to a lot of Outdoor Retailer tradeshows (40+?), I'm reminded of the veteran sales representatives in the outdoor industry who have not only hit every OR Show, but SIA, ISPO and numerous regional shows as well, which puts their count well into the hundreds, if not thousands of tradeshows. It is exhausting to even think about as the shows are always high energy and packed with meetings, products, activities, food, parties, etc..   The OR Show is held twice a year in Salt Lake City – once for summer sports and once for winter sports. The gear that is being shown is generally in-line items or sales samples, which means that the actual production quantities are still a year out.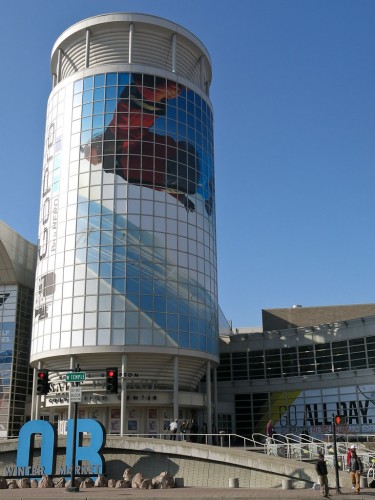 The temple of gear, which is appropriately located on Temple Street.
The show begins with an on-snow demo day where you can try out new skis, boards, etc..  This year it was held on firm, groomed snow at Solitude, which was fun, although I have to wonder if riding a lift and mach schnelling down a rock-hard groomer really gives you any idea of how a ski will perform in the backcountry. But that is kind of beside the point – if it looks good, it is good.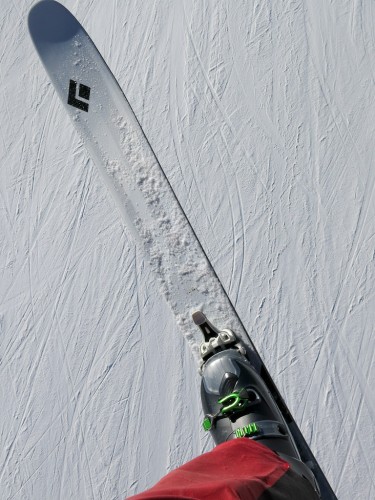 The full BD Monty – Carbon Convert skis, Vipec bindings and 2014 Quadrant boots.
Face time and promoting synergy is an important aspect of the show, so Greg Hill and I scheduled a Productivity Workshop one morning on top of Mt. Kessler. I'm looking forward to doing more business with him in the future. ;)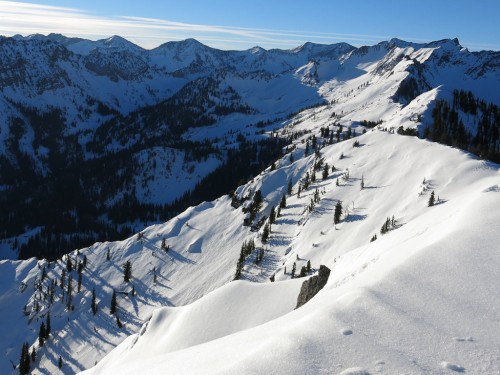 Mr. Hill's terms, delivery dates and quality control were all very acceptable.
Was there anything new?  Yes, definitely, but nothing like a magic carpet for mountain surfing.  I suppose it is a sign of a maturing industry, but I'd consider most "new" things at this OR Show to be refinements of existing products or variations on a theme.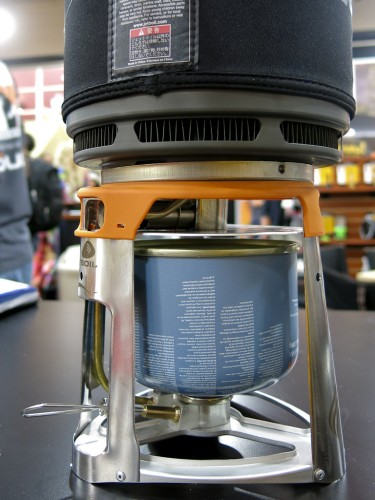 Jetboil flipped the gas canister over and created a new stove which burns the actual fuel rather than just vapor.  This gives you better gas mileage, so to speak, as it uses up all of the canister and will also make it a better winter camping stove as solid gas will be less affected by the cold.  But, it makes the entire package a bit more bulky.  Still – a nice, hot, highly efficient stove.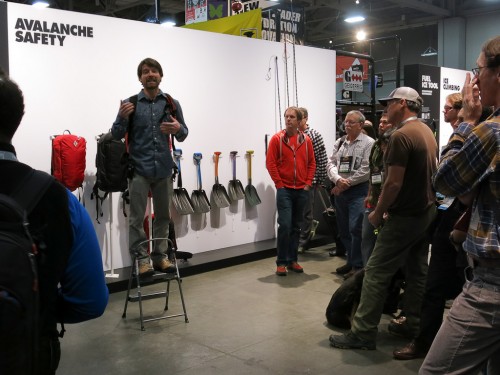 Black Diamond formally introduced the JetForce airbag pack.  Available soon.
Dynafit and Backcountry Magazine hosted the party of the show to celebrate their respective 30 and 20 year anniversary.  To honor the occasion, Dynafit printed up about 200 books showing the history and highlights of the bindings, which quickly became the most coveted schwag of the show, although I think they are also available for purchase. Along with Mark Newcomb and Kit DesLauries, I signed about 200 of them…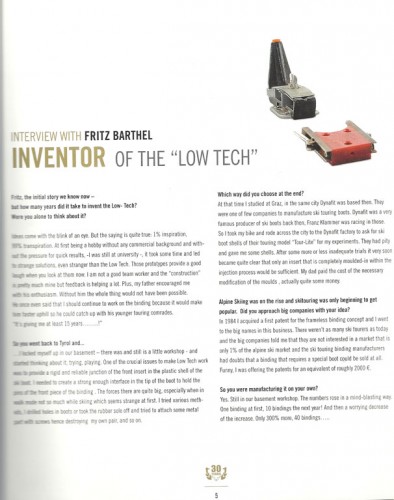 … as well as some dude's ass.
There were lots and lots of new, super high quality new clothes.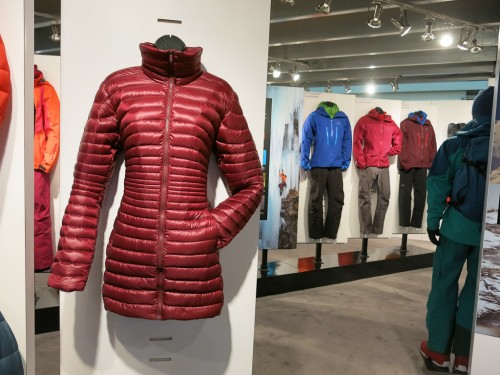 I've never actually owned or worn a piece of Arc'Teryx clothing, but they make some very nice looking products.
Black Diamond's clothing line was filling out and featured some nice detailing.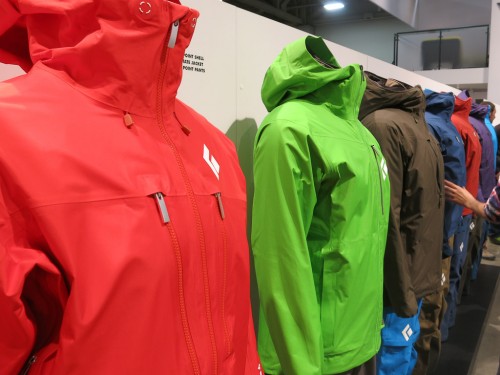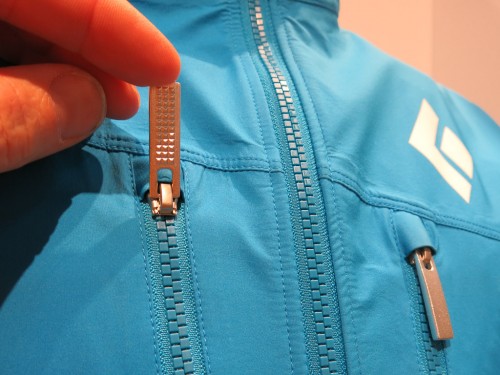 "God is in the details." Ludwig Mies van der Rohe.  Cast, curved, custom zipper pulls with traction treads on the back.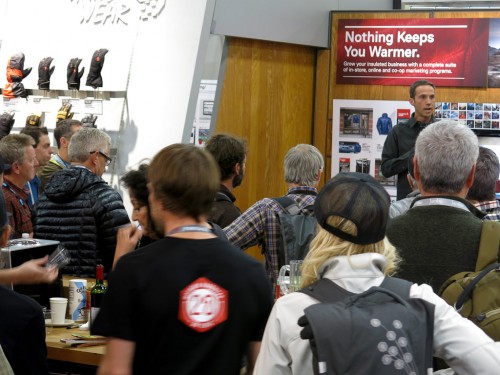 Led by CEO Topher Gaylord, Mountain Hardwear celebrated 20 years of partnerships with major retail dealers.
Another meeting was in order, so we got together with 18 people from the Winter Wildlands Alliance and the Wasatch Backcountry Alliance to do some team building by bumping over rocks in the backcountry.  Some p-tex was harmed in the making of this meeting.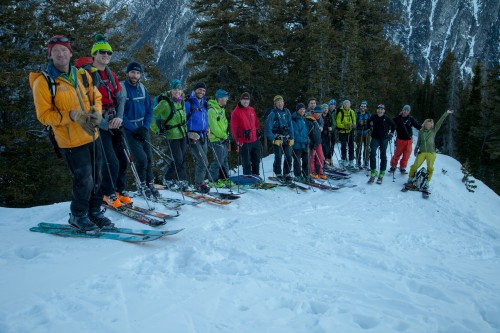 Now that the Dynafit patent has expired on tech bindings, a plethora of new tech bindings have come out, including the G3 Ion, Fritschi Vipec and many other specialized variations. One that kind of slipped under the radar the Speed Turn from Dynafit themselves.  This is billed as a "gateway drug" binding into the world of tech bindings as it has a retail price of $350ish, which is roughly half of many of the other tech bindings.  Personally, I think it looks awesome as it has the old TLT heelpiece and the new ST Vertical toe, which is the best of both worlds.  No brakes though.  :(
Apparently I'm the only person in the world who has not know about this binding, but Scarpa/Trab were showing the new Trab T-something binding.  TR2? I uses a tech toe, but the heelpiece clamps down more like an alpine binding.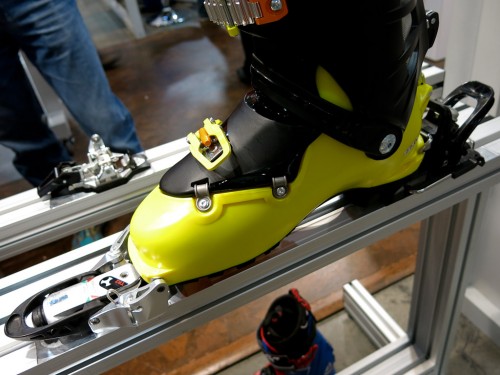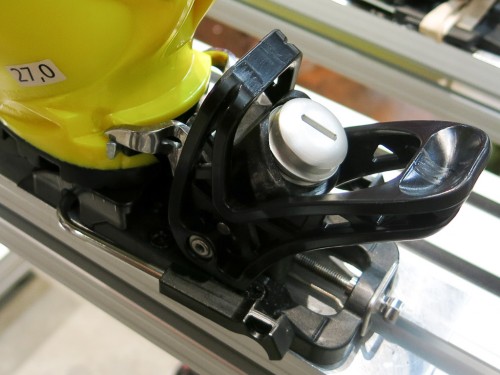 Fisher had some viable touring boots and a set of very light skis and bindings.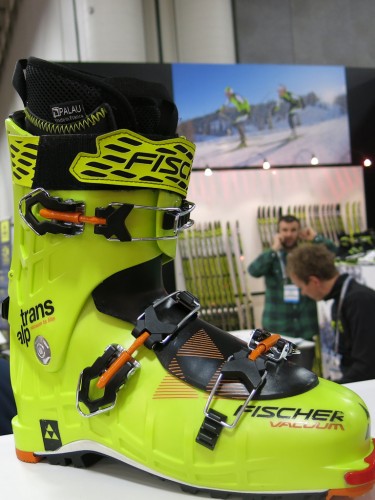 The boot looks and feels nice, although I'm not too sure about the prospect of thermofitting both the liner and the shell.  ??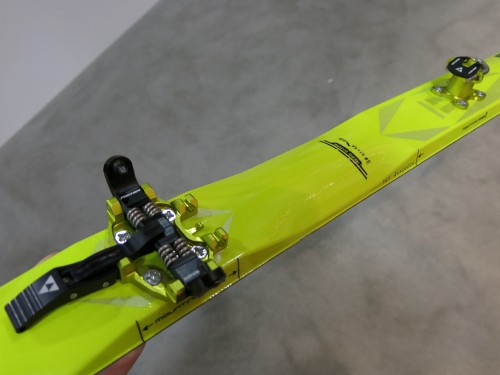 The convex section under the boot helps to shed snow.
In the department of miscellaneous, I can't believe how big GoPro has become.  I bought a GoPro the first year they came out and sold it after two uses as the quality was so abysmal, but all of that has changed and they are now huge.  I can only imagine what their profit margin is on these things…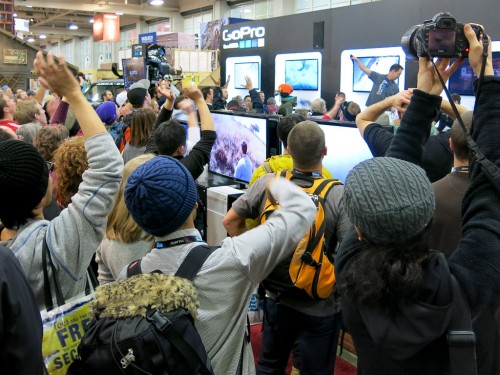 There were lots and lots and lots of snack/energy food companies there.  Clif has some good new Mojo bars.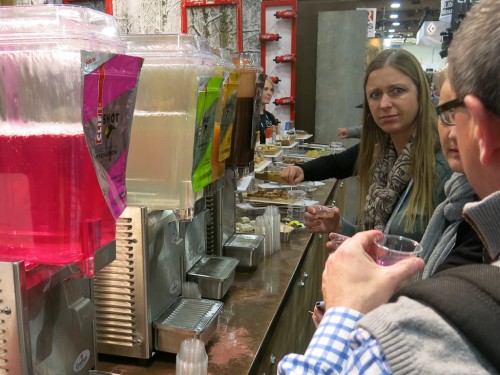 The woman at the end looks a bit dubious.  "Did you really drink that..?!"
There were lots of dogs, which is as it should be, plus some cool birds of prey and even this Kookaburra.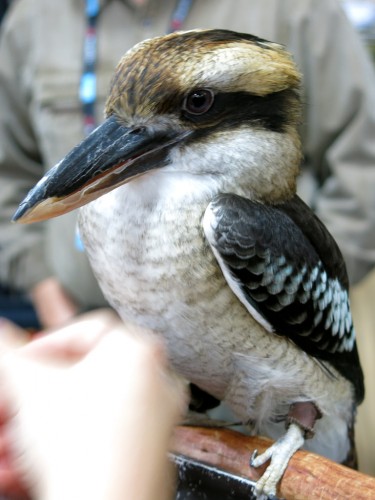 A Kookaburra wishing he/she was sitting in the shade of the old gum tree.
It was fun and I'm looking forward to seeing a lot of these products, and more, in the mountains next year.
________________________________
Help support StraightChuter.com and wash down all of that gear with a gulp of Clifbar Clif Shot Hydration Drink from Backcountry.com. Click on the photo below…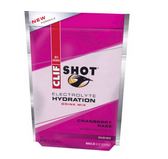 Category: Gear Reviews