Another Ice Axe Antarctic Ski Cruise has gone down in the history books, and like all those before it, this was yet another good one. I love how these trips start by collecting people from all over the world, squeezing them into South America, and then distilling all of that down to the very southern tip of the continent in Ushuaia, Argentina.  You couldn't ask for a better place to launch an expedition from.  From there the energy continues to build with a trip across the Drake Passage, seven days of skiing on the White Continent and then another exciting trip back across The Drake.  As Alex, our Quark Expeditions trip leader said, "Cruises have set itineraries, whereas expeditions do not."  In that case this trip is technically a Ski Expedition, but such details are trivial compared to the amount of fun that was had.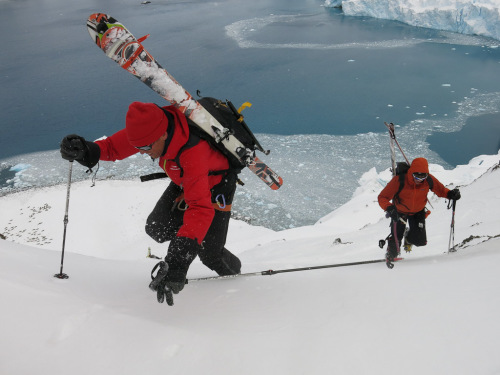 Eric and Giorgio about to top out on "Espresso" in Admiralty Bay.
Unlike in years past, we had quite a bit of bad weather on this trip and ended up missing a day and a half of skiing due to high winds and seas.  In contrast to other snowy locations, storms in Antarctica can be deceiving as they mainly involve very high winds and not much snow.  From the comfort of your berth aboard the Sea Adventurer, it is easy to wonder why we can't get out skiing, but once you get outside and look down at the frothy ocean or see the loading gangways getting swamped with waves and pushed around by icebergs, it all makes sense.  Still, everyone remained in a good mood, which was a tribute to the general level of skiing experience on board the boat – if you have skied for a while, you quickly begin to realize that weather days are just part of the game.
There was less sea ice on this trip than in years past, of which 2013 probably had the most.  Sea ice is problematic as the big boat, the Sea Adventurer, can push through it, but the Zodiacs can not, which makes getting to shore problematic.  Skiingwise, this year's challenge was flat light and high winds, which are not a good combination when crevasses are thrown into the mix.  Due to this, we visited some of the classic sites from years past such as Port Lockroy, Livingston Island and others, mainly as the ski guides were familiar with the terrain and knew where to go in poor visibility.
From a guiding standpoint, this trip is incredibly fun as it involves 100% on-sight terrain reading, good snow hunting and challenging logistics.  It is not like doing your 300th tour on a local peak.  It is also a huge privilege to work with  so many superb guides from all over the world who are here for the same reason – to have fun and go skiing.  In normal circumstances, putting 24 guides into a small, contained room for 2-3 meetings a day would lead to crampon and ice axe fights, but not on this trip.  If anything, everyone went away even better friends than when the trip started and already making plans for 2015. Of course a big part of this is having guests who are even more fun (and responsible…) than the guides, which has always been the case with Ice Axe trips.
One sign of a good trip is when people rebook for next year before they have even left the ship, which is often happens with the Antarctic Ski Cruise.  The next outing is November 7 – 19, 2015 and if year's past are any indication, the 100 available spots will sell out soon.
________________________________
Help support StraightChuter.com and see through the storm with a pair of Smith I/O7 Goggles with Bonus Lens from Backcountry.com. Click on the photo below.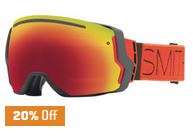 Category: Trip Reports