Another fun trip to Antarctica is now history and it did not disappoint.  Well, okay, the Drake Passage at only Force 3 was a bit lacking, but it still had some nice waves.  And, unlike in times past when you had two wait  years between trips, it is being held again next you in November of 2014!
A photo gallery of the trip can be found here.
Nov 3rd – Guides meeting in the morning.  Watched Jorge attempt to tie a Figure 8 knot from memory alone. Went skiing in the afternoon with everyone and ended up touring with Dav and Howie.  Good snow!  Met everyone at the Kuar restaurant for the evening social event.
Nov 4th – Met up with Launce Gouw, Paul Lambie and Dave Pease at the Albatros, then toured up through the rain on the Martial Glacier.  I returned with Launce after one run while Paul and Dave stayed out for more.  Had a fun dinner at the Albatross restaurant.
Nov 6th – Drake Passage.  Fairly calm passage with moderate swells from abeam, which make it a bit rolly-polly.  Attended a few presentations and gave one on skiing in Antarctica. Met lots of great people, hung out, drank lots of coffee, ate too much food and generally enjoyed the ride.
Nov 7th – Thursday – Finished crossing the Drake and saw Smith Island just as the ship pulled in.  Lots of pack ice, which caused us to spin a few circles and change course.
Had a great dinner and then a guide meeting.  We are heading to the Farm and Victoria tomorrow, weather and ice allowing.
Nov 8th – Woke up to a beautiful day – clear and cold.  Steamed down to Chicoguano Bay and put in two Zodiacs to check out landings for The Farm and Mt. Victoria.  We got into Victoria, but it was a sheet of ice.  The other boat didn't make it into the Farm due to brash ice.  Pulled up the Zodiacs and moved further down the channel to Ronge Island.
Ronge turned out to be excellent skiing with a nice peak which we were able to skin to the top of, some good bowls, lots of excellent visuals and some protected little pockets of powder.
November 9th – Had a morning of scratchy skiing and poor visibility in Paradise Bay, which was a shame as the area has tons of great skiing if you can see it.
In the afternoon, we did a short hop over to Neko Harbor and had an excellent afternoon of powder runs.  The initial climb was like surmounting a bowling ball – it just kept rolling over in an endless sphere.  We traversed to the east to try and make it up a beautiful peak, but were shut down by crevasses.  For future reference, it looks like you could wrap around a sub peak to the west and easily make it up there.
Nov 10th – A great day with lots of good skiing options. Skied Nansen Island (not exactly sure if this was the name of it…?), which has tons of options, although the brash ice limited us on landings. Went out with Brian, Launce, Paul and Dave.  We got in 5 runs and about five to eight thousand feet of climbing depending on your watch/GPS.
Started out with a long climb up a mellllllow slope, then summited a beautiful peak, which was lovely, but not the one I was thinking of.  Roped into it and found big-ass cliffs.  A bit trickier than it appeared from the boat.
Spun a lap on the backside (low angle), then put a booter up a nice steep fin which kept your full attention. Followed up with a huge cruiser to the solarium for lunch, a long skin out, dropped into a nice line blind and from behind (not my favorite, at least with skiing), then followed Chris Davenport's skin tracks up a nice face.  Skied the face, which had quite a few crevasses including one right on the summit, then climbed out, did a half lap to kill some time and called for a Zodiac.  Overall awesome day.
Nov 11th – Got off to a rough start with some wet snow/rain, bullet-proof snow conditions, flat light and a tight little zone in Charlotte Bay. Landed and traversed up to the Blue Room zone, which was packed with people. Took a few laps, then took our turn in the Blue Room, which due to wind drifted snow over the last two years has become the Blue Tunnel.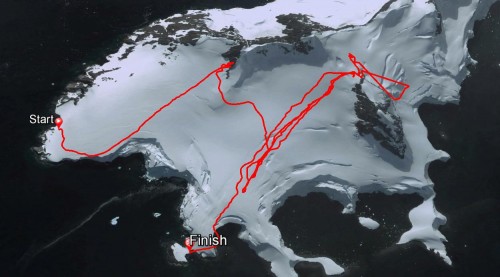 Charlotte Bay and the Blue Room zone.
After coming back to the boat for lunch, we did a short hop over to Bluff Island.  The sun came out and we had a fantastic landing site – a perfect little nook with a set of stairs leading right out of it.  The skiing was pretty good, but had lots of wind-jack on the upper half.  We summited a small peak by booting directly up the north face, which we then skied as well.  After that, we traversed around to the NW and found a nice little pocket of sheltered terrain, which turned out to have the best snow of the day.
Nov 12th – Started out the morning with a few false starts before finally landing on Livingston Island in a stiff breeze and ultra flat-assed light. The actual snow quality wasn't bad, but it was literally hard to see your skin track well enough to even follow it back.  Skied one line next to a cliff that was pretty nice, then wrapped around the corner and put up a booter, which we followed back down.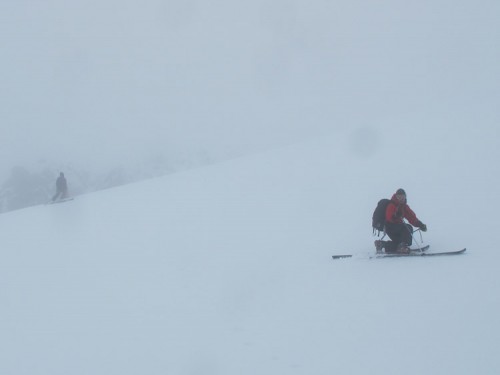 Livingston Island – ski it if you can see it.
Had a wet ride back to the boat, followed by lunch then a bit of a fire drill to get geared back up for a ride to Half Moon Bay for some wildlife viewing with lots of Chinstrap penguins and a huge old Southern Ocean seal.  Apparently another boat was coming down and we had to be out by 3:00.
Nov 13th – Had a dynamic day of shifting plans on King George Island.  The wind and ice conspired against skiing in the morning, then again in the afternoon.  We were able to get ashore for some wildlife viewing at the Polish Arctois (??) station, which was fun.  For future trips, that area of KGI has great skiing potential.
Spent the evening heading out and entering the Drake, which so far is fairly calm.
Nov 14 & 15 – Drake Passage at about Beaufort Level 3 or 4.
Nov 16th – Back in Ushuaia.
A great trip!
________________________________
Help support StraightChuter.com and see through the fog with a pair of Smith I/O Interchangeable Goggle – Photochromic from Backcountry.com. Click on the photo below…

Category: Trip Reports