I'm the type of skier who likes to find gear that works and stick with it, and would rather spend my time skiing than dickin' around with unfamiliar products.  My annual gear choices are made even easier as I have the great privilege and honor of being an "independent contractor" for a variety of companies, including Mountain Hardwear, so every year I just find the most expensive items and order two of every color.  ;)  Okay, not really.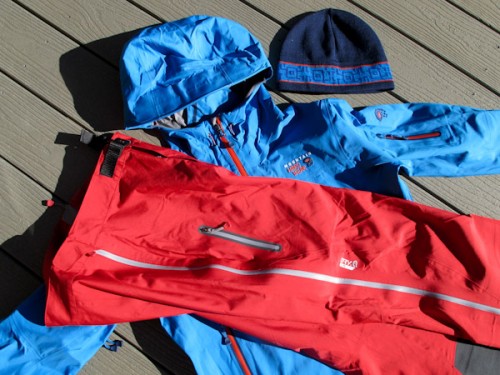 For the past eight or so years, I've been using alpine climbing jackets and pants as I like the looser fit, stripped down design and generally better construction and materials.  I've found that most "ski" specific clothing is more geared towards riding the wire, and as such has too many doodads and is too hot for hiking.  This year MHW has come out with a line of clothing that is far & away the best they have ever produced.  A big part of this push has resulted from them moving to their own proprietary breathable membrane, Dry.Q, which has allowed them increased design flexibility.
For outerwear this season, I am using a Jovian Jacket and Bokta Pants.  Both are gorgeous pieces of clothing, but I am especially excited about the pants as; a) they are red, b) they have full length zippers. The full length zippers are essential for taking your pants on/off over ski boots (or even while wearing skis), and taking other things, like visits to the outhouse.  In the past I'd often cut the powder cuffs off right away, but now I let them rock until they inevitably get torn & ripped to the point that they serve no purpose, and then remove them.  This usually takes about half the season and is 100% user error.  I wear soft shell Synchro pants as a baselayer, which fit over the boot top, and if I really need powder cuff protection, like for extended postholio sessions, I'll cinch the cuff down with a Voile strap.
The Jovian Jacket follows in the tradition of the Beryllium and Vertical jackets – a clean, simple design with fantastic materials and construction. If I were god, I'd do away with the pit zips and bicep Chapstick pocket, but I can live with them.
I'm thrilled to see jackets and pants like these, as from a manufacturers perspective, they must be a tough sell.  To the disconcerting customer, it appears you can get a jacket with more bullet-points on its hangtag for less money elsewhere, but if you are using these things on a daily basis in the environment they were designed for, their value quickly becomes apparent.
________________________________
Help support StraightChuter.com and fill your cart with a Mountain Hardwear Jovian Jacket from Backcountry.com. Click on the photo below…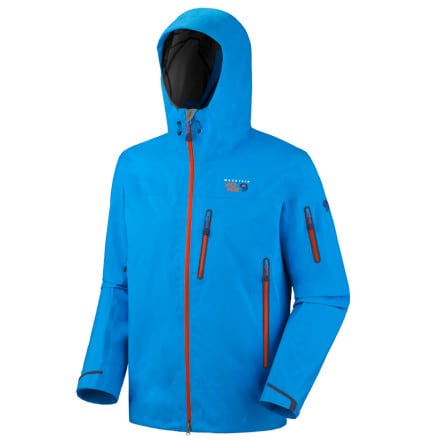 Category: Gear Reviews