Last Saturday, for the first time in seven years, I was on the other side of the starting line of the Wasatch PowderKeg as a racer instead of an organizer. I love this event and thought it was a goner when Black Diamond and Patagonia pulled their backing out of it this season, but fortunately Chad & Emily Brackelsberg along with Mark & G Christopherson stepped in, stepped up and not only kept the tradition alive, but improved it.  It was a fun event and I'm glad to see that it is now in the sustainable grassroots mode so it stands a good chance of continuing on in the future.
Photos courtesy of Jay Beyer – http://jaybeyer.com
As an organizer, the race reminded me of a high-stakes version of the dominoes tip-over game where you set everything up, hope for the best, then when the starting gun goes off, there is not much to do aside from stand back and pray that everything/everybody falls in place accordingly.  The years when the avalanche danger was considerable to high were nerve wracking, and the year that we ran it through the moguls which unfortunately iced-over during the night and almost took out the entire pack were especially memorable.  The ideal is to create a race which is fair, safe and challenging, of which any two variables are easy to achieve, but hitting all three is incredibly difficult.
I've always thought that American racers can compete with the best of the Europeans once they/we learned all the tricks of the trade, got the right gear and started to train for racing, and that prediction is starting to come true.  It use to be that if you had the right gear (Dynafit bindings, racing skis and F1 boots), you were guaranteed a podium finish.  Now the majority of the serious racers all have it.  Six years ago, if you were behind on a climb but knew the tricks to a 40 second de-skinning transition, you could regain lost ground.  Now you will be losing time if you can't transition in 30 seconds or less.  Training in the past entailed a good touring base plus abstaining from excessive beer drinking the night before the race, whereas now people actually train and the results are obvious and impressive.  People are getting consistently faster, which is great to see.
For my part, I ate shit, which was kind of a relief.  I saw Steve Cook, aka Silver Steve at the finish line who is the top medalist in US history for disabled Nordic Skiing, who asked me "Did you visit the Pain Cave?"  The Pain Cave is where you have to go if you really want to win, but when you are looking at the difference between 9th, 10th or 11th place, just looking at the entrance to the cave is fine.  I had a fun time trading places with Chris Covenington from Alta and Eric from Jackson Hole, and didn't suffer any lung damage as a result, so my race was a success.
As a confession, on the eve of the race I was debating not doing it as I wasn't prepared, we had visitors and I had other pressing commitments.  Plus, I knew I was going to get my ass waxed.  But, I'm glad I did as the energy of the event itself is excellent and just being part of it is really what it is all about – thanks Chad, Emily, Mark & G!  Details on the race and info for next year can be found at www.wasatchpowderkeg.com
________________________________
Help support StraightChuter.com and get a free pass to the Pain Cave with a pair of Dynafit TLT Vertical Race Ti Bindings on sale now at Backcountry.com. Click on the photo below…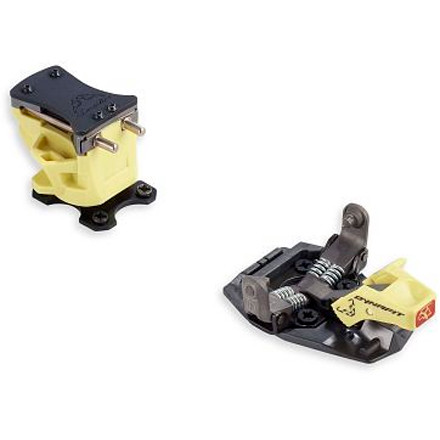 Category: Events