The day started with airborne garbage cans flying around in Salt Lake City.  Texting Noah from the comfort of his upstairs bed, Jonah asked "Are you still going?"  Noah had no choice, first because it was his idea to climb and ski 12,012′ in honor of 12-12-12, but also because he was meeting me for breakfast at 6:30am.  The show must go on, even as the text message cancellations started to pour in.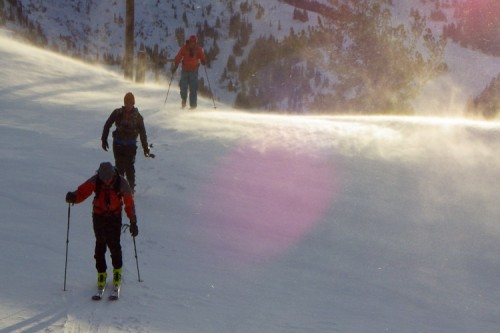 Andy, Jared and Noah skinning up Pole Line Pass in 50mph winds.
I'm a fan of projects like this as it keeps skiing fun, interesting and motivational. Unfortunately, the crappy snow year so far limited our slope options to the upper elevations, which are a windjacked mess of punchy crust, heavy powder, ice and rocks. We chose High Ivory as it was one of the few places that had a continuous 1,000′ shot and was wide enough to accommodate lots of tracks.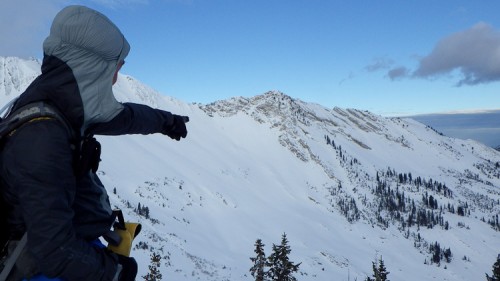 Jared pointing out High Ivory, which is one of the few places in the Wasatch right now with 1,000′ of skiable terrain and a consistent slope angle.
Skinning by 7:30am in strong, gusty winds, we made our way over Cardiff Peak, then down to the base of High Ivory where we dumped most of our gear and put in a skin track.  There was a moment of silence after the first run when we all realized that the punchy, crusty snow was going to make the descents almost as hard, or harder, than the ascents, especially on short little skis.
I used a pair of Scarpa Alien boots, 167cm K2 Backlite skis (Euro version), K2 mohair skins and Dynafit Titanium TLT bindings.  Andy Jacobsen and Jared Inouye had similar set-ups and Noah Howell used Scarpa Rush boots with 100mm'ish BD skis.  Wider skis would have been nice for the descents, but harder for climbing, so it was probably a wash.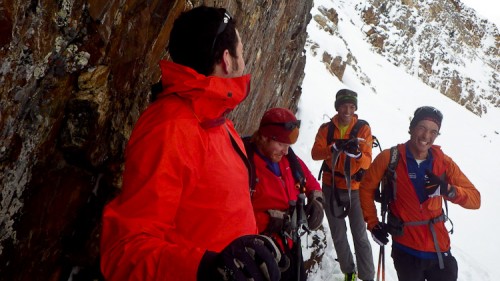 Jason and Andy Dorais (far right) showed up for a few laps of encouragement.
The first few laps went well and then the lactic acid started to set in.  12k is a big day of BC skiing, but it was hard not to think about Greg Hill's feat of racking up 200 or so consecutive days like this in a row to accumulate 2 million vertical feet in a year. It also reminded me of climbing the Harding Slot, a flaring bomb-bay squeeze chimney 1,000′ off the talus, after knowing that Peter Croft had soloed it.  All I could think of in both cases was "You sick phuck!"  A  belated congratulations to Greg and Peter.  It must be a Canadian thing.
The flat light, high winds and overcast sky meant that it wasn't a very photogenic day, and given that I spent most of the time in the backseat on my third edge, it is probably better that we didn't take too many photos.  It wasn't pretty.
Endurance outings like this are mostly a mental battle and pacing is critical. You have to keep moving, but not too fast or slow, and don't get discouraged. I'm currently reading "Canyons and Ice" which chronicles Dick Griffith's multiple 300-1,000 mile solo trips through some of the most hostile terrain on earth, including the Alaskan Arctic.  On some days, especially at the beginning of trips when he was fully loaded down, he'd only make 2-3 miles a day, which has to seem daunting at the start of a 750 mile trip! Things usually get better… but not always, which is when the true adventure begins.
________________________________
Help support StraightChuter.com and rack'em up with a pair of Scarpa Alien Alpine Touring Boots from Backcountry.com. Click on the photo below…

Category: Trip Reports, Wasatch Mountains