The tenth and last of my personal avalanche avoidance theories.
There's a joke among sailors concerning seasickness that's usually told as the victim is puking over the railing:
Q:  Do you know the only proven cure for seasickness?
A:  Lie down in the shade of a palm tree.
The point of the joke is that the only guaranteed way to prevent seasickness is to remove yourself from the churning environment, which is the same with avalanches. The punchline for the avalanche version of this joke might be "Sit in the day lodge and drink hot chocolate." but even day lodges have been hit. If it is steep enough to turn on, in just the perfectly wrong conditions, it is steep enough to avalanche. Avalanches have killed people in some of the most bizarre circumstances imaginable including tiny road cuts, low angle slopes, rock hard snow, roofalanches and everything in-between.  A friend triggered a slide and went for a ride on the last remaining patch of snow in the middle of a talus slope in August.  Entire mogul fields have ripped out. When we triggered the dramatic avalanche in the movie "Steep" I would have called the avalanche danger "Low" or "Below Low" if such a category existed.
A cruel aspect of avalanche accidents is that they are always so obvious in retrospect. After the fact you can measure the angle, find the bed surface, identify the weak layer, see the tracks leading into them and usually get a first hand account from a survivor about exactly what happened. But beforehand, due to spatial variability and test interpretation, you could dig pits to the ground every 100′ and still not be 100% certain. You also wouldn't get very far.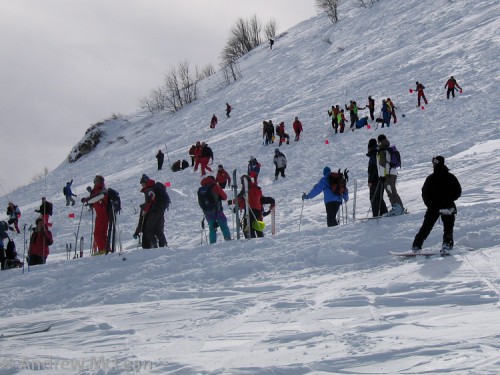 This avalanche took place inbounds at a ski resort right in the middle of a ski mountaineering race. It took out a cat track full of skiers and spectators, but luckily nobody was hurt.
Ruedi Beglinger, who has a near perfect safety record as a guide in high consequence terrain described the illusion of safety as "Two parallel lines which look like they converge in the distance, but never really do." There will always be the risk of avalanche danger, and if you spend 1,000 days in the mountains, even 1:1000 odds means that your number will come up. It might be the first day, or it might be the last. If you ski enough it will eventually happen, and the best way to stack the odds in your favor is to constantly be on the alert for avalanche danger and don't get lazy.
________________________________
Help support StraightChuter.com and never say neve with some Black Diamond Neve Pro Crampons w/ABS from Backcountry.com. Click on the photo below…

Category: 07 Avalanche Avoidance